Why Microsoft Office – isn't that a part of the past?
Some of you might ask why I use Microsoft Office in my videos on how to increase business productivity. Isn't Microsoft Office a part of the past? You probably wouldn't have asked me this a few years ago, because a few years ago Microsoft Office was the given productivity software suite for everyone. But today, the marketplace is totally different – there are many other options to choose from, some are free community developed applications and others are commercial. The productivity software battlefield has been quite turbulent the past decade with many players entering the market. Even though there are a number of different productivity tools available, I would narrow down the discussion to three main players: OpenOffice.org, Google Docs and Microsoft Office. Let me give a little background and current development on each of these.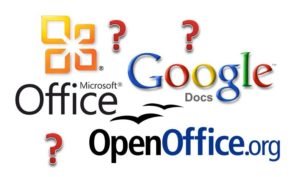 Openoffice.org
Openoffice.org originates from StarOffice which was developed by the German company StarDivision. The source code of StarOffice was purchased by Sun Microsystems in 1999, and in 2000 they made it available for download with the aim of building an open-source development community around the software – OpenOffice.org was born. In 2010, Sun Microsystems was acquired by Oracle and Openoffice.org became part of the Apache Software Foundation, a decentralized community of developers. OpenOffice.org is a free download and it can be installed on a number of different computing platforms including Windows, Mac, Linux and Sun Solaris.
Google Docs
Google Docs initiated from two separate products – Writely developed by a software company called Upstartle and Google Spreadsheets based on a product from 2Web Technologies. In February 2007 Google launched its Google Docs free of use for their users, since then, Google has continued to invest in Google Docs through further development and acquisitions of technology companies. Today Google Docs also includes applications for presentations, drawing and forms. Google Docs is a software as a service, meaning that you run it in your browser when you are connected to the Internet. You can take parts of Google Docs offline (meaning that you can work without an Internet connection), but for full usage, you need to have Internet access.
Microsoft Office
The first version of Microsoft Office was launched in 1990 and included three applications, Word, Excel and PowerPoint. Since then a new version has been released every two to three years. Microsoft Office can be installed on Windows or Mac. The past few years, Microsoft Office has grown into a diverse productivity application suite that integrates with Microsoft's Business Productivity Servers (such as Microsoft SharePoint and Microsoft Exchange) and cloud services (such as Office 365 and Microsoft Dynamics CRM Online). I don't think anyone knows the exact number of Microsoft Office users worldwide, but I would imagine it to be somewhere around 500 million.
One of the more exciting developments when it comes to Microsoft Office the past few years is the Office Web Applications. On April 21, 2010, Mark Zuckerberg, the CEO of Facebook, officially announced Docs.com. This is a joint initiative between Microsoft FUSE labs (a part of Microsoft Research) and Facebook that enables Facebook users to create, edit and share Microsoft Office documents (Word, Excel and PowerPoint) online free of charge.

In addition to providing access to Office on the web for Facebook users, on June 7, 2010, Microsoft added support for Office Web Apps (Word, Excel, PowerPoint and OneNote) to Windows Live SkyDrive, Microsoft's free online cloud storage service for consumers.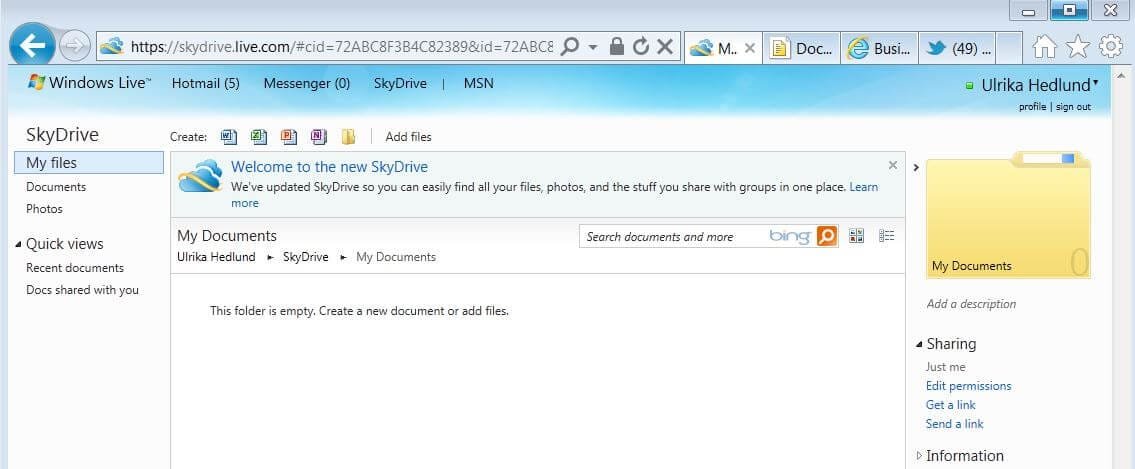 The right tool for the job
What is my view on all of this? Well, first of all, I believe in having the freedom of choice and selecting the right tool for the job. As a businesswoman, I don't want to pay for anything I don't see value in. If you need to write a letter once a year, I don't believe that purchasing Microsoft Office Professional is the right choice for you, in that case, an online free version is a better alternative. However, for most organizations, small or large, that have employees that create, edit and share documents, that collaborate and communicate, the investment in a professional productivity suite is a no-brainer. The biggest asset for most business owners is your employees if you don't provide your employees with the right tools, and the knowledge of how to use them, you are leaving money on the table. Having access to productivity tools over the Internet is great. But in terms of productivity, nothing (yet) beats the speed of applications that are physically installed on your computer.
In addition to the freedom of choice, I believe that the increased competition in the productivity software arena has been very beneficial and rewarding for end users. This definitely pushed Microsoft to start revitalizing the business model around Microsoft Office. Many people at Microsoft have been terrified of changing a business model that has been lucrative for so many years, but with the winds of change, something had to be done.
Productivity software today
Productivity software today is not about word processing or spreadsheets, this was revolutionary over two decades ago. Today productivity software is about collaboration, instant communication and anywhere access. We are living in a fascinating time with groundbreaking innovations entering the market. We are nowhere close the end of what technology can do in terms of productivity enhancements – I believe we are just getting started.
On a closing note, productivity is not just about new technology, it's also about knowing how to use it. This comes from learning and experience – hours and hours of learning by doing. I'm always open to new and more productive ways of doing things, so if you can show me a more productive way of doing things I'd gladly listen. But for now, I will continue to use Microsoft Office, because that is still my number one choice as a business professional to maximize my productivity.