Increased Productivity when Microsoft meets Nokia
Last week I bought a new mobile phone, and unlike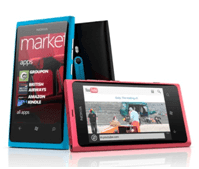 everyone else it seems, I did not buy an iPhone. Since I'm a heavy user of Microsoft products and I have invested in Office 365 for our company I bought the new Nokia Lumia 800 which is a result of Microsoft's and Nokia's new partnership – a Nokia phone with Microsoft's Windows Phone 7. 5 operating system. I have previously had Nokia phones and I've always been pleased with the quality of the phone functionality even though I felt they have lacked in business productivity capabilities. I've also used various brands of mobile phones with Windows Phone operating systems and been happy with the business productivity aspect – but less so with the quality of the phones. Given this, I was really eager to see what the new Nokia Lumia 800 had in store.
Getting started
Just like the iPhone and iPad, the Nokia Lumia uses the new, smaller micro-SIM (Subscriber Identity Module) card. So if you are keeping your old phone subscription, make sure you get a new micro-SIM card. The only difference between the two is the size – reducing the size is of course of great importance when it comes to designing devices with slim form factors. As soon as you plug in the power cord to charge the battery the phone lights up and the welcome guide starts. The guide walks you through the setup step by step in a very straightforward manner.
Using your Windows Phone with Office 365
Setting up your phone to work with Office 365 is surprisingly easy. Ideally, you should have access to a wireless Internet connection when you do this, it will be a lot faster and cheaper compared to synchronizing all the data over the mobile telephone network.
Outlook and Exchange
The first step is to connect Outlook mobile to the Office 365 Exchange server. This way you will get all your contacts, your calendar and your email synchronized to your mobile phone. Just select to set up an Outlook account, enter your email address and password and the phone configures all the settings for you. No need to enter an Exchange server name, proxy server address or gateways. In a few minutes, all of your contacts are synchronized, with pictures, contact details and notes, your phone calendar is updated with your appointments and your inbox is filled. It's remarkably easy!
SharePoint
To access your Office 365 SharePoint site just click the "Office" icon that's located on the "Home page" of your mobile. You'll be prompted to enter your Office 365 username and password and after that, you are immediately connected to your SharePoint site. The links to your accessed team sites are stored under the menu item "Locations" making it easy to access them again. The browsing experience is of course not as rich as when you access your site on a PC, you don't have images or nice colors, but the benefit is that you can access all the information you have in your site – announcements, documents, contacts, you name it.
Lync 2010
When I had connected the mobile to my Office 365 account I was prompted to download and install Lync 2010 mobile. If you're not prompted, you can always download the application free of charge. Now you can send instant messages and see the presence status of your Lync contacts directly from your mobile.
Mobile Office – OneNote, Excel, Word and PowerPoint
The Windows Phone has mobile versions of OneNote, Excel, Word and PowerPoint built it. Even though you would seldom write long documents or analyze complex spreadsheets on your phone, being able to view and make smaller changes on your phone is really valuable. Especially now when it is so easy to access documents that you have saved on your team's SharePoint site. I love that I now always have access to my PowerPoint presentations on my mobile so that I can review them before I give a presentation. In addition to the built-in Office applications, you can also download a PDF reader so that you can view PDF documents on your phone.
Using your Windows phone with Windows Live
As described above the new Windows phone works seamlessly with Office 365, but even if you are not subscribing to this service you can access a lot of similar functionality with the services provided with Windows Live. Windows Live is the group name for the consumer based services offered by Microsoft free of charge, including Hotmail, SkyDrive and Windows Live Messenger.
Hotmail
Accessing your Hotmail from the mobile phone is really straightforward; you just sign in with your Windows Live ID and password and off you go. In addition to accessing your email you can also choose to synchronize contacts and calendar. This is a great solution if you are not using Exchange for managing your contacts and calendar.
SkyDrive (OneDrive)
The integration with SkyDrive allows you to easily save and access pictures "in the cloud". (For more information on SkyDrive please see the blog post – What is Microsoft SkyDrive and how can I benefit?) I use this heavily for backing up pictures I take with the mobile phone camera. With a click of a button, I can upload a picture to SkyDrive. I can add a caption to the picture and be sure that it's securely backed up if something were to happen to my phone. I've also shared the link to my SkyDrive mobile photo album to close family members so that they can see the pictures the moment I upload them.
Windows Live Messenger
At a first glance, Windows Phone seems to be missing Windows Live Messenger since there is no separate application for it. There are a number of Windows Live Messenger applications available to download for free but they are developed by other software vendors– not Microsoft. After doing some investigation into this I found that Windows Live Messenger is so tightly integrated with Windows Phone that you can't see it. If you go to "Messaging" you can select to send a text message or an instant message to your Window Live Messenger "buddies". You can also log in to your Facebook account and use Facebook chat. Personally, I would have preferred to have a separate application for Windows Live Messenger provided by Microsoft enabling more advanced capabilities.
Nokia Applications
The Nokia Lumia 800 comes with a few Nokia specific
applications (Nokia Maps, Nokia Drive and Nokia Music). The one I have already used with great satisfaction is the Nokia Drive GPS application. Last night I was driving to a friend's house in Stockholm and I had no idea how to get there. I just sat in my car turned on the Nokia Drive application and the female voice guided me from door to door (it's too bad the app can't find available parking spots as well…) Since I'm already using both Microsoft Zune and Spotify for music I haven't even bothered to open up the Nokia Music application. In my opinion, Microsoft and Nokia should just battle it out and keep one – as it is now it's a bit confusing for the user.
Apps – For productivity, business, gaming and leisure
In addition to the applications that are already installed on your mobile phone when you buy it, you can download a myriad of applications through the Windows Phone Marketplace.
Some of them you have to purchase, while others are free of charge. Some are free to try but come with quite annoying advertising. I was actually surprised to see a large number of applications that were available for the Windows Phone. I have an iPad and I'm used to searching the Apple App Store to find interesting applications, in comparison I expected the Windows Phone Marketplace app offering to be rather poor, but I was positively surprised to see a large number of apps for the Windows Phone (including Word-feud that I play regularly with my sister).
Things I'm missing
After having used the phone for a few days I have noticed a few things that I'm missing that are normally found in mobile phones. Quite often you are asked to share contact information with others, a phone number or an email address. In most other mobile phones you can open up a contact and choose to share it via Bluetooth, as a text (SMS) or multimedia message (MMS). This ability is missing in the Nokia Lumia 800. To work around this I've had to open up the contact, select Edit, copy the phone number and then paste it into a new text message. This is really cumbersome if you need to share a lot of contact information. The same thing goes for sharing pictures via Bluetooth to another device. You have a handful of options to share photographs to Facebook, SkyDrive and through email and MMS, but the ability to "beam" a picture using Bluetooth is missing.
In summary
The Microsoft-Nokia partnership has been a hot topic the past year. Will they be able to "save" each other and launch phones that can compete against Android and iPhones, or are they doomed in the mobile phone market? Having used the phone for only a few days I can say that I'm positively surprised by the quality of the phone, the ease of use and the business productivity gains it provides. The phone is fast, the sound quality is good and the design is sleek. Personally, I love that my phone is a continuation of my PC so that I can access my business documents and websites and be productive when I'm on the go. I also like the Nokia Lumia 800 from a personal perspective, it enables me to take great pictures, share them with family, keep track of friends on Facebook and play games when I want to take a break. To sum up I'd say that Microsoft and Nokia have done a great job with their first phone in partnership, so far I'm very pleased with my Nokia Lumia 800 and I would warmly recommend it to anyone who is looking for (and can afford) a sophisticated, yet cool phone that can improve their business productivity.
If you have difficulties reading this article, you can access the full article in pdf here)