Exciting enhancements in Lync 2013 for end-users
Update 1 (2015): Microsoft announced that Skype for Business will replace Lync.
Update 2 (2017): Microsoft announced that Microsoft Teams would replace Skype for Business eventually.
In last week's blog post I gave you "5 tips on how to enhance communication using Microsoft Lync 2010". When I wrote that article Microsoft had already completed the next version of Lync – Microsoft Lync 2013 (which was code named Lync 15). Although the final version hasn't been released to the public yet, a preview of the product was released earlier this summer and the product team has been sharing more information about the final release in their blog. As with all new product releases, there are exciting enhancements for various groups – IT administrators, support staff, etc. In this blog post, I wanted to share some of the enhancements that I'm most excited about from a user perspective.
Updated client for easier interactions
If you are using Microsoft Lync 2010 on your PC you will feel quite familiar with the new client. Lync 2013 has the "Office 2013" look and feel which means that frames have been removed to provide a cleaner interface with less clutter, menu options are easier to find with capital letters and larger icons.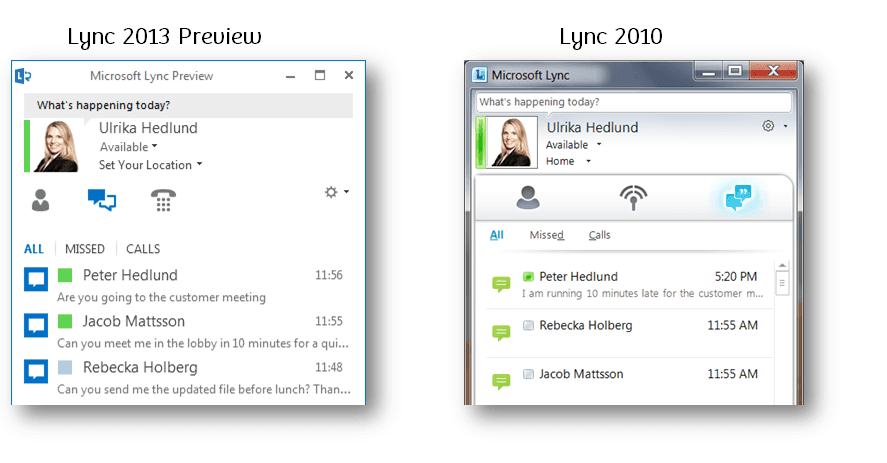 The new client makes it easier to quickly interact with contacts. If you click on a contact the "Quick Lync Bar" appears with large icons showing you in which ways you can interact with the person. Another addition that really should have been there long ago is the "Add a contact" button which makes it easier to build your contact groups.
If you had instant messaging conversations with multiple people in previous versions of Lync your screen would quickly get cluttered with windows for each conversation. This could get really messy and if you weren't paying attention you might send an instant message to the wrong person. In Lync 2013 you have one single window with all your conversations, each person on a separate tab. This is a great enhancement that really helps you keep your conversations organized so that they are always easy and quick to access.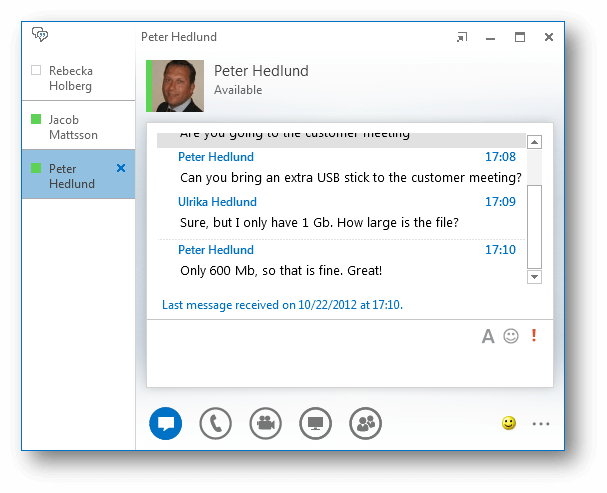 Support for a large range of devices
I wrote that you will feel quite familiar with the new Lync 2013 PC client – if, however, you download the entirely new client that has been developed for Windows 8 touch screen devices the experience will be entirely different. I haven't had the opportunity to try this myself, but from what I have seen in the blogs it looks really exciting.
Lync 2013 also comes as a new web client with much better functionality than before. Now you have full audio and video directly from within your browser!
Integrated group chat
One of the new exciting capabilities in Lync 2013 is persistent group chat. You can think of this as a virtual meeting room where you gather to discuss a specific topic with each other in real-time. You can enter and exit this virtual room as you please and all the conversations and information that is shared in the room is stored there so that you can search and filter for information and easily get up to speed. This capability was available in Lync 2010, but not through the normal client so it wasn't widely adopted. Now that it is integrated into the Lync 2013 client I believe more users will start using it. A lot of discussions within organizations that are currently carried out through long email threads would be much better off in a Lync group chat. Group chat is great for scenarios like events, Q&A (Question and Answer) forums where you can post questions to experts, brainstorming, product planning, etc. Group chats can be "Open" (anyone can find them and join in), "Closed" (anyone can find them, but only members can join) or "Secret "(you need to be a member to join or even see that the group exists).  Having group chats that are visible and open to everyone in the organization improves transparency and internal communication.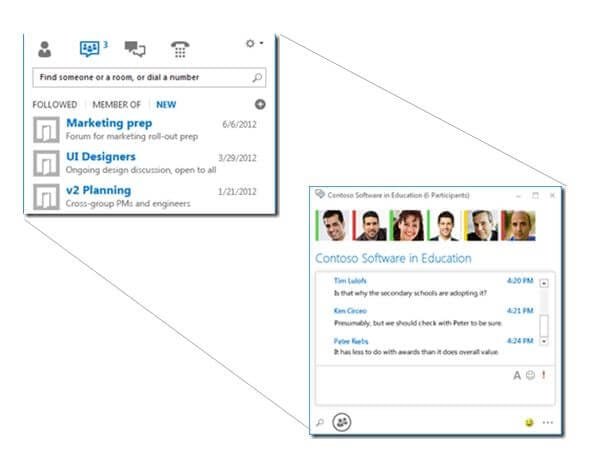 Integration with Skype
There are many different applications for instant messaging and voice over IP (see my blog post called "Instant Messaging Clients").  However, one of the most popular, used by over 600 hundred million users, is Skype. Microsoft's acquisition of Skype has opened up for new exciting integration capabilities that are introduced with Lync 2013. You will be able to communicate with all your Skype contacts – suppliers, customers, partners, etc. directly from Lync. You will be able to see their presence, chat and call them. Unfortunately, there is no support for video in this version, but this is bound to be introduced in coming versions.
Video conferencing enhancements
Finally, I'd like to highlight the video conferencing enhancements in Lync 2013. The backend technology has been improved to enable rich high definition multiparty video; the technology standard used (called H.264 SVC) can better optimize the available bandwidth so that you have the best possible video quality whether Lync is used on a mobile phone with a poor network connection or a PC with a fast Internet connection.
The Lync client has also been updated to improve the meeting experience. Meeting participants will be shown in two rows – the standing row (on top) where the most active speakers are shown and the sitting row (on the bottom) where the rest are shown.  You can "pin" people to the standing row if you are particularly interested in seeing them during the meeting.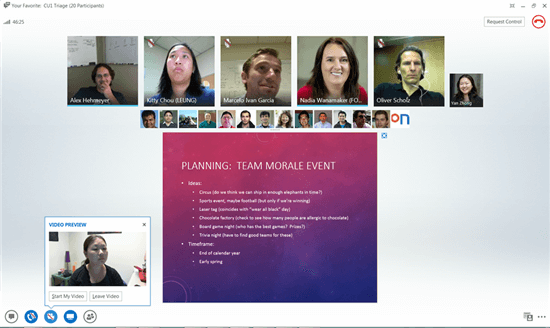 A new capability that I really like is that you can see a video preview of yourself before you turn on your video camera (not that you ever look good in a webcam). If you want to know more about the video conferencing enhancements you can read this blog post from the product team.
Good to know before getting too excited
The new version of Lync definitely brings some very interesting capabilities that will improve business productivity. It's important to point out though that there will be differences in the capabilities of the on-premise Lync 2013 server and the Lync Online service offered by Microsoft. Group chat, for instance, will not be available in Lync Online or the ability to connect external users that have Yahoo or AOL instant messaging clients.
Other capabilities that users have been asking for: spell-checking and offline instant messaging (being able to send instant messages to someone even if they are offline – which can be done in Skype today). Unfortunately these requests have not been fulfilled with Lync 2013 (though users who are using Lync on Windows 8 can leverage the Windows spell checker). Even so, I find the enhancements that are being introduced with Lync 2013 very exciting and I'm eager for Microsoft to upgrade my subscription of Office 365 to the next version.
(If you have difficulties reading this article, you can access the full article in pdf here).