Part 1 of 3: Does Instant Messaging in the Workplace Increase Business Productivity?
I frequently end up in discussions with executives on the effectiveness of instant messaging in the workplace. Nowadays, the question is less about whether or not instant messaging should be used within the corporation, because whether or not the management has given their consent, it already is. The question today is more related to the effectiveness of instant messaging in the workplace – does it increase business productivity or not? My immediate answer to that is always, "yes, if used properly". So then the next question is of course, "how do you use instant messaging properly?", and "what are organizations doing to educate their employees on the effective use of instant messaging?"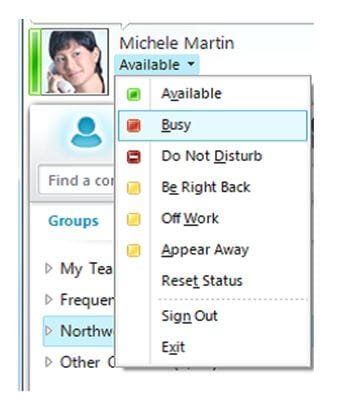 Instant Messaging basics
Just to make sure we are all on the same page I want to cover some instant messaging basics. Instant messaging, or "IM" as it's commonly referred to, is a form of text-based, real-time communication, carried out between two or more people over a digital network. Most people use their personal computers for instant messaging conversations over the Internet, but these "chats" are also becoming more and more frequent on mobile devices over cellular networks. In addition to sending messages, people can also see the status or "presence" of the other person they want to communicate with. This means that they can see if the other person is busy, away (from the computer), or available. A person's status is normally represented by a traffic light indicator (red=busy, orange/yellow = away, green=online/available). Today instant messaging is usually included in the broader term "unified communication" which includes things like presence, IP telephony, web conferencing, voice mail, etc.
Instant messaging technologies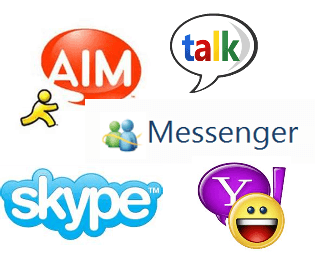 There are a number of different instant messaging technology platforms available today. Some are primarily targeted for consumers and free to download such as Windows Live Messenger, Yahoo Messenger, AOL Instant Messenger(AIM), Google Talk and Skype. Others are targeted for the enterprise and have a cost associated with them, examples include Microsoft Lync, IBM SameTime and Cisco Jabber. I will go into more depth of these technologies in the 3rd and final part of this blog series.
Benefits of Instant Messaging
Instant messaging by nature encourages people to be brief and to the point. Increase in productivity is gained by eliminating time wasted switching between various communication methods such as sending and waiting for a response to an email, calling someone and leaving a voicemail when there is no response, walking down the office to see if someone is available only to find that they are in a meeting, and so on.
In addition to the time savings, another benefit is the positive impact it has on geographically separated offices. In a study by Justin Schwarz they found countless positive accounts of instant messaging bridging locations, encouraging new global business structures. Employees found it much easier to "ping" (initiate an instant message conversation) someone in another geographic location than pick up the telephone and call that person. In addition to strengthening relationships between dispersed teams, replacing phone calls with instant messaging also led to cost savings.
According to the same study, many felt that instant messaging was less intrusive than a phone call due to the ability to see if a co-worker was busy or not prior to sending a message. This is further supported by a study by Kelly Garrett and James N. Danziger where they concluded that instant messaging in the workplace promoted more frequent communications and simultaneously reduced interruptions. The study showed that workers used instant messaging to manage interruptions by postponing work-related communications until they are more relevant or less disruptive, and integrated communication with friends and family into the ebbs and flows of work.
Another factor that is often seen as a productivity enhancer when it comes to instant messaging is the ability to multi-task. Multi-tasking in this sense means that people can engage in instant messaging conversations while in a phone call or while going through their email inbox. Personally, I don't like to list this ability as a productivity booster, since I believe we lose productivity by trying to focus on multiple things at the same time. It can, however, be a great tool to use if you need to get hold of someone to clarify something while in a meeting or if you need input to a document you are currently writing, but to call this productivity gains due to multi-tasking is a bit misleading in my opinion.
Downsides of Instant Messaging
Some of the reasons why executives are against instant messaging is the increased risk of company confidential information leaking, increase in workplace gossip, loss of work time due to personal instant messaging conversations, potential legal claims, regulatory fines, and security breaches.
According to the study by Justin Schwarz 32% of the individuals who used instant messaging in the office acknowledged that instant messaging could encourage workplace gossip, and 29% noted that instant messaging had been a distraction at some point in the past. Another study conducted by Meta Group in 2006, although five years old, showed that 57 percent of the respondents used instant messaging at work for personal reasons.
Another downside that is sometimes raised is the loss of relationship building when face to face meetings and phone calls are being replaced with short, text-based conversations. Unfortunately, I haven't been able to find any good research to support this point. (I have however found research that shows that employees perceive their working relationships to be improved after adopting instant messaging.)

Use of Instant Messaging in the workplace
So what can we make of this? Are companies adopting and benefiting from increased business productivity on instant messaging? Well, we already know that instant messaging is being used in the workplace. In the study by Justin Schwarz back in 2007, instant messaging, in some form, was present in as many as 90% of organizations. In 2010 Gartner did a study on social software used in the workplace at 416 US-based companies, the study showed that approximately 50% had implemented or wherein the process of implementing corporate instant messaging software.
How to increase business productivity using instant messaging
Many organizations install and roll out instant messaging capabilities to their employees without having any formal policies or guidelines in place, and without providing training for their users. Since many people are familiar with instant messaging for personal, social communication, it is a major risk that they apply the same form of communication in the workplace, which may or may not be appropriate.
One solution some corporations have introduced is enterprise instant messaging where you can only chat with co-workers, this is an effective way of eliminating time spent on personal chatting. This, however, is not a good solution for every organization. In my experience, corporations that have too rigid IT policies always stand the risk of employees finding loopholes. It is always better to be aware of what is going on in the enterprise and provide a secure but flexible IT-supported infrastructure to support the emerging business needs.
In order for organizations to maximize business productivity using instant messaging it's imperative that organizations define and publish policies and guidelines. There are numerous examples of companies that have published good policies for instant messaging usage. Some of these published online, by doing a quick search you can find plenty (here is one example). Employees need to be made aware that the company infrastructure should be used for work-related communications and that all data traffic is stored and archived. If employees know that their communications are monitored, they are less inclined to use it in an inappropriate manner. Again, a limited form of personal instant messaging might increase business productivity since it is much quicker and less disruptive than say a phone call.
In addition to following policies and guidelines, it is also imperative that employees use good instant messaging etiquette (in Part 2 of this blog series I will cover this in more detail).
So in conclusion:
"Yes, I strongly believe that instant messaging increases business productivity provided that the organization provides good guidelines and policies and train employees on how to effectively use instant messaging".
(If you have difficulties reading this article, you can access the full article here)