How to remove tracked changes from a document in Word 2010
Please note that this is a shortened, fast-speed video with the objective to give you a glimpse of ways in which you can improve your business productivity. The full video: "Send a document for review" shows you how to perform the steps in a slower, more user-friendly fashion.
Contact us to learn more about our full, ad-free video library or sign up for the full course, "Professional documents using Microsoft Word 2010" on Udemy.
Learn how to remove tracked changes from a document using Microsoft word 2010
Here I have a document that two other colleagues have reviewed for me. I've walked through the document and accepted or rejected the tracked changes and now I want to publish this document.
I can open up the "Reviewing Pane" just to make sure that I have no more remaining revisions. Another great way to make sure you don't have any hidden comments or changes is to inspect the document. Go to the "File" tab click "Check for Issues" and select "Inspect Document".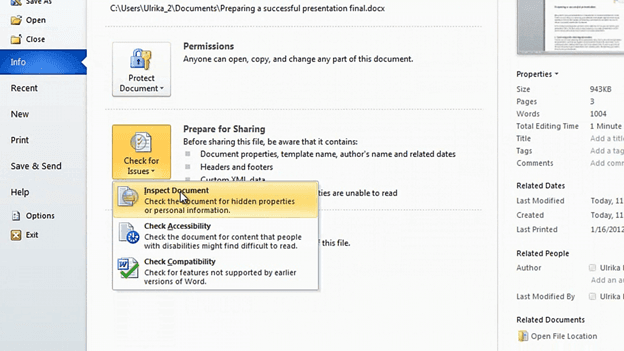 Here I can choose to check for comments, revisions, versions and annotations. I'll just remove the other check-boxes and click "Inspect". Here I can see that "No items were found" so I can be sure that there are no hidden revisions here. So now my document is ready for publishing.