What is WhatsApp and how can I use it?
Even though I consider myself to be rather up to date on the latest in communications technology, I felt like I was in the hi-tech stone-age when I was recently introduced to WhatsApp by the other mothers at my son's nursery. Since I frequently send text messages to friends and family in various parts of the world, I quickly became a big fan of this mobile app and I'm now a devoted user. I wanted to dedicate this week's blog post to WhatsApp in case you hadn't yet heard of the ways in which you can benefit from using it.
What is WhatsApp?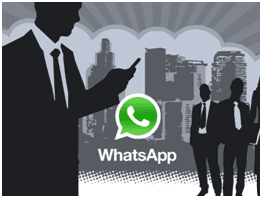 WhatsApp is a messaging application that you can download to your smartphone and use to easily send messages to other peoples mobile phones. The beauty of the application is that it's available for most types of modern smartphones including iPhones, Blackberries, Windows Phone devices, Android phones and certain Nokia phones using Symbian. Unlike traditional text messages sent using SMS, WhatsApp uses your phones' data connection so you don't have to pay for the individual messages you send.
What are the benefits?
There are so many apps available today, but before you waste time and energy on downloading and installing an app you want to know that it's actually worth the effort. As I see it, there are a number of benefits of this messaging app.
Reduced costs – The most obvious benefit to using a messaging application like WhatsApp is that you can reduce your monthly mobile phone bill since you don't have to pay for messages sent using WhatsApp. As long as you have a data package included in your mobile subscription, or, if you can use your mobile over WiFi networks, you can send and receive messages at no additional cost.
Richer messaging  – Even though writing messages using text is the most common way to communicate, you might also want to include some other type of media in your message. Using WhatsApp you can include images, videos, audio files, contacts, your location and a number of emoticons in your messages. Since you can't ever rely on phones successfully receiving MMS (multi-media messages) this is a great alternative.
Confirmation of message sent and received – When you send a message using WhatsApp you can see a little check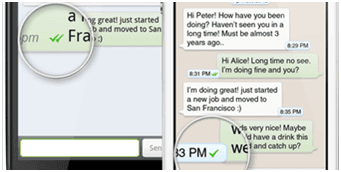 mark that the message has been successfully sent. When the message has been delivered to the recipient you will see two check marks in the message. This way you can see if the person has received your message or not (this does not mean that the person has read the message though, only that it has been delivered to their phone).
Easier group chats – Using WhatsApp you can create a number of different groups with people you can message all at once. No matter if you are communicating with your family, your teammates or the parents in your kids' nursery, you can easily create a group and make sure that everyone is kept in the loop.
How do I get started?
Getting started only takes a few minutes. To use WhatsApp you need a fairly modern smartphone. You can check if your mobile is supported here.
1) Download the app – If you have an iPhone you can download WhatsApp from the iTunes App store, if you have a Windows mobile you can download it from the Marketplace, for other mobiles you can go to the WhatsApp download page. For iPhone users, WhatsApp costs $0.99 in the iTunes App Store. On Android, BlackBerry, Nokia and Windows Phone, WhatsApp is free to download and use for the first 12 months, but then costs $0.99 per year (this annual subscription fee will also apply to iPhones).  Update: WhatsApp is now owned by Facebook and is completely free to use.
2) Set up the app – Before you start using WhatsApp you have to register the application on your mobile. To do this you enter your name and mobile. You will get a text message (SMS) with a code that you need to enter in order to complete the WhatsApp registration. Using the app you can easily add a profile picture to your account using your phone camera or by selecting one from your mobile photo albums.
3) See who of your contacts are using WhatsApp – You don't have to create a whole new contact list in WhatsApp. You can see who of your contacts in your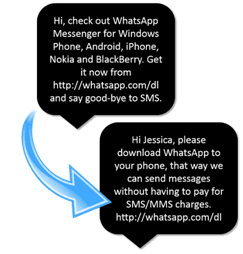 existing mobile phone address book is already using WhatsApp and you can start sending and receiving messages with them right away.
4) Invite others to join – If you want to message someone who is not using WhatsApp you can invite them to join.  They will then get a text message from you with the download location link, you can customize the invitation message to make it more personal.
5) Start communicating – Using WhatsApp is very straightforward. The functionality differs slightly across the different mobile platforms, but there still isn't that much to it. You can send a message to someone by simply starting a new chat and selecting them from the contacts. You can also start a group chat where multiple people see the messages that are being sent back and forth. You can also send a broadcast message to multiple people. The difference between a broadcasted message to multiple people and a group chat message is that in the group chat everyone sees all messages sent within the group. If someone replies to a broadcasted message on the other hand, only you as the original broadcaster will receive that reply.
Uncertain future
WhatsApp is not the only mobile messaging app out there. There are many other popular apps such as Kik and Kakao Talk. People are not going to have multiple clients to communicate with each other so the big question is which one will "win" meaning, which app will be used by the most people?  The founders of WhatsApp are very secretive about how many people are actually using their application. They do claim that they have more users than Twitter, that is, more than 200 million users monthly.
The other question is about the business model. It's great to have a free product for millions of users, but at the end of the day, the messaging companies need to make money. According to the CEO and co-founder of WhatsApp, Jan Koum, WhatsApp will not base their business model on advertising. Instead, he believes that customers are willing to pay for a service they value on their phones.  Some claim that the fee they charge, however small, will hinder the adoption of Whatsapp and that other totally free apps will "win" the race. It remains to be seen, but for now, I'll bet on WhatsApp and invite my friends and family to join.
(If you have difficulties reading this article, you can access the full article in pdf here)