Office 365 in the Cloud – What is it really?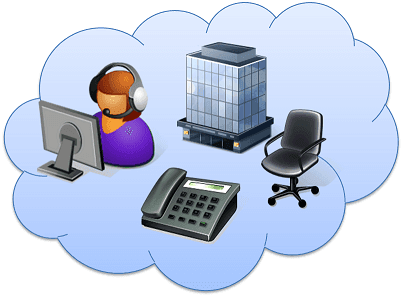 What is Office 365?
In some of my videos on Effective Teams, I refer to using Office 365. Since this is an entirely new service provided by Microsoft I thought I'd use this week's blog entry to explain what it is. Microsoft Office 365 was launched June 28th, 2011 in 40 markets. If you read Microsoft's overview of Office 365 it says, "[Office 365 is] familiar Microsoft Office collaboration and productivity tools delivered through the cloud." So then you ask, what are collaboration and productivity tools and what is the cloud? Let me try to explain this in simple terms for you.
Productivity tools
Let's start with productivity tools. Ironically, there is no exact definition for productivity tools, but broadly speaking this is commonly referred to as software that increases users' business productivity. In Microsoft's case, this term is often used to describe Microsoft Office.
Collaboration tools
If you look up "collaboration tool" on Wikipedia it is described as "Everything that helps to solve a predefined task together in a group more easily is an effective collaborative tool. Collaboration means, in this context, working together to fulfill a shared, collective, bounded goal." Collaboration tools aren't necessarily linked to computers, but often when we talk about collaboration tools today we indirectly mean technology-based solutions that help us work better together. This includes (among other things) email, shared calendars, shared contacts, instant messaging, IP-telephony, web conferencing, blogging, document sharing, task lists, reports, dashboards and much, much more.
Up until recently, these rich collaboration tools were limited to organizations that had progressive IT departments that provided employees with the latest technologies. If you are a knowledge worker and you get used to working with rich collaboration tools like these you can't ever imagine getting things done without them. Luckily with the recent developments, these collaboration services can now be provided to everyone, with or without an IT-department, on a subscription basis through the Internet, or as it is called here – the cloud.
The Cloud

This brings me to the third part of the Office 365 description. What in the world is this cloud and why is everyone all of a sudden talking about? Well, silly as it may seem, "the cloud" is just another name for "the Internet". The name comes from the cloud that is used to represent the Internet when you do computer diagrams. Previously, vendors such as Microsoft, IBM and Oracle would sell products that organizations had to install on their own servers and manage themselves. Today many of these products are installed on servers in data centers hosted and managed by the vendors themselves and provided as a service to their customers. This way customers don't have to worry about server capacity, software upgrades or security patches. This is all taken care of for them.
What do you get with Office 365?
So if we go back to Office 365, it is Microsoft's collaboration and productivity tools (some of you might be familiar with the product names – SharePoint, Exchange, Lync and Office Web Apps) provided to users on a monthly subscription basis through the Internet. Included in some of the monthly subscription offerings is the right to download and install Microsoft Office Professional Plus on your computer. Now, for every new launch of Office Microsoft changes the names of the various packages and what applications are included in each package so it's very easy to get confused. In the current version of Microsoft Office Professional Plus 2010 you get Word, Excel, PowerPoint, Outlook (with Business Contact Manager), OneNote, Access, Publisher, InfoPath, SharePoint Workspace and Lync.
So, to sum it up, even if we're just a small startup with very few people employed, we can still enjoy the benefits of an enterprise-class productivity and collaboration infrastructure through Office 365. We can use our own domain name (businessproductivity.com) and if we want we can use the web infrastructure (SharePoint Online) for our public website. As an administrator, I can easily add and remove users through an easy web-interface, and they are up and running in a few minutes. This flexibility is pivotal in a small startup where we need to be nimble.
When it comes to the videos we've published on Effective teams, you can still benefit from these if your organization is using SharePoint 2010, it doesn't have to be provided through Office 365.