What is Microsoft SkyDrive and how can I benefit from it?
Update: Microsoft SkyDrive has been replaced with Microsoft OneDrive. You can learn more about OneDrive here.
There have been a number of updates to the SkyDrive service provided by Microsoft since this article was written, you can read more about the enhancements here. 
After three productivity related blog posts in a row, I thought it was time to dive into a technology topic. This week I've decided to write about Microsoft SkyDrive. Even though this service has been available for a couple of years, I know that many still aren't taking advantage of this free service from Microsoft.
What is it and how can I use it?
Windows SkyDrive is a free, online storage service provided by Microsoft. You can upload any type of files – documents, photographs, audio and video files. In order to create a SkyDrive account, you need to log in using a Windows Live ID which is the authentication method Microsoft uses for its Live services (such as Hotmail). If you don't already have a Windows Live ID you can create one for free here. Once you have created your SkyDrive account you can start benefiting from it in a number of different ways.
1. Backup of your important files and photographs
One obvious benefit of SkyDrive is that you can "outsource" the backup of important files to Microsoft for free. With SkyDrive, you get 25 gigabytes of free storage on the Internet. So how much is 25 gigabytes? Well, if you want to store text documents (about 8 pages long), you can store over 1.5 million documents and if you want to store hi-resolution photographs (usually about 5 megabytes each) you can upload about 15,000 photos. So as you can see, 25 gigabytes of storage is quite generous. You don't have to worry about your hard drive crashing or your laptop with your wedding pictures being stolen – you can save all your important documents and photographs to SkyDrive and let Microsoft take care of them for you.
2. Access your files from anywhere
The other huge benefit of uploading your important files to SkyDrive is that you can access them from any device with a browser. So let's say that you are sitting in the sofa at your cousin's house and you want to show grandma the pictures from your latest trip on your iPad – you can just log in to SkyDrive and access the pictures from there.
Or, if you meet with a potential business partner while on vacation, you can log in to SkyDrive from an Internet Café and show him your business presentation.
You can also access your SkyDrive files from a number of smartphones. The most elegant integration is of course with Microsoft's latest Windows Mobile operating system. You can easily add new files and photographs; you can browse files and easily share them with others directly from your phone.
On December 13th, 2011 Microsoft announced a SkyDrive app for iPhone. So now iPhone users can also get instant access to their SkyDrive files from their mobile.
3. Easily share photos and documents with people you choose
SkyDrive also enables you to share documents and photographs with other people. Many people I know are a bit reluctant to add photographs to FaceBook because they are not certain what happens to the photographs. Who owns them when they have been uploaded to FaceBook? Who can access them and what happens if I change my mind and want to remove them? When you share a photo album with someone using SkyDrive you can choose who you want to send the link to. You can decide if it should be publicly available to anyone, or just the people you send a link to. It's easy to see who you have shared the link with and you can just as easily remove their rights to see the folder, document or photo.
4. Edit your Office documents from any browser
As part of the SkyDrive service, you have access to Microsoft Office Web Apps. This is a web version of Microsoft's popular Office applications Word, PowerPoint, Excel and OneNote. This means that even though Microsoft Office isn't installed on the computer where you are accessing your SkyDrive files, you can still view and edit them from within the browser. Now, of course, you don't get the full functionality as you do in the full, installed Office applications. But in most cases, if you just need to do some minor edits, it definitively does the job. This is also great when you want to share documents with other people since you don't know if they have Office installed or not.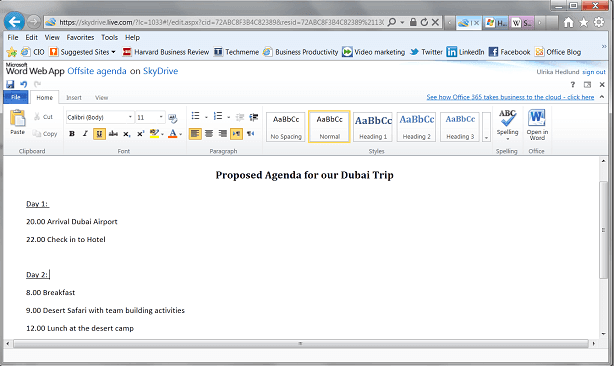 Personal or business use?
The main target audience for SkyDrive is consumers, but with that said, Microsoft promotes SkyDrive on their Small Business Center portal. Even though files are encrypted while being uploaded to SkyDrive and Microsoft takes precautions to protect files that are stored on SkyDrive from hackers there are other security aspects you need to consider as a business. What files are being shared? What happens with these files if this employee leaves?  For businesses, I would recommend other solutions for file sharing such as Microsoft SharePoint where IT departments have better control of the usage.
How do I use SkyDrive?
Personally, I use SkyDrive predominantly for personal use. I create albums and share photographs with friends and family and I upload daily pictures that I take with my mobile to SkyDrive. I've also used SkyDrive to share documents for school projects at London Business School. Even though I use SharePoint in Office 365 as our main file sharing solution for our business, I share some files with customers using SkyDrive because it's really quick and easy to share documents.
If you haven't used SkyDrive before I hope that this quick overview gave you enough information on the benefits so that you feel compelled to try. As with all free services, there is no guarantee that they will continue. Currently, there is no option to get more than 25 gigabytes of storage – but who knows, in the future, Microsoft might introduce an offering where you can pay for more.
(If you have difficulties reading this article, you can access the full article in pdf here)