Understanding Microsoft's Collaboration Technologies
Last week I wrote an article about collaboration technologies, I gave you an overview of the definition of collaboration and the three major components of collaboration – communicating, sharing and accessing information. For each component, I listed a number of technical capabilities that enable modern knowledge workers to collaborate with one another. In this article, I want to give you an overview of the collaboration technologies offered by Microsoft and how it maps to various Microsoft products. Even though it's only been a few months since I left Microsoft, I'm going to try my best to give you a "non-Microsoft" explanation, because I know from experience that Microsoft employees see the world through a lens of their own!
Microsoft's collaboration products behind the scenes
There are a number of technologies behind the scenes that enable us to communicate, share and access information to better collaborate. The main products that support these collaboration capabilities from Microsoft are Microsoft Exchange, Microsoft Lync and Microsoft SharePoint. I could write hundreds of pages on the capabilities of each of these products, but I just want to give you a high-level overview of what these products are and what they can provide your organization with in terms of collaboration.
Microsoft Exchange
Microsoft Exchange has a long history; the first version of Microsoft Exchange Server that was sold to the public was released in 1996. Since then it has been updated and released in numerous versions.
The current version is Microsoft Exchange 2010 and it was launched in November 2009. From a collaboration perspective, Microsoft Exchange provides users with email, voicemail, fax capabilities, calendaring, contacts and tasks. Please refer to the product site for a full description of the functionalities provided.
Microsoft Exchange just acts behind the scenes. Users interact with Microsoft Exchange using Microsoft Outlook, through a web browser using Microsoft Outlook Web App, or through a mobile device using Outlook mobile.
Microsoft Lync
Microsoft Lync is a much newer addition to the collaboration product family. The product, which was previously named Microsoft Office Communications Server, was originally launched in December 2003. The name Lync was introduced with the latest version, which was launched in November 2010. Microsoft Lync provides collaboration capabilities
like instant messaging, internet telephony, web and video conferencing and the ability to share your presence (if you are on a phone call, in a meeting or available for conversations). Please refer to the product site for a full description of the functionalities provided.
Just like Microsoft Exchange, Microsoft Lync just acts behind the scenes. Users have a number of choices when it comes to interacting with Microsoft Lync Server. For best functionality, users should use the rich client called Microsoft Lync. You can also access the server through a web browser using the Lync Web App or Outlook Web App. If you are on your mobile, you can use the Communicator mobile which is available on a number of mobile devices.
Microsoft SharePoint
Microsoft SharePoint is a massive product and when I say massive I mean that it incorporates an enormous amount of functionality. In Microsoft's terms, this is the main collaboration product. The first version, Microsoft SharePoint Portal Server, dates back to 2001.
Microsoft SharePoint is the fastest growing server product in Microsoft's history. If the SharePoint division within Microsoft was a standalone company it would be one of the top 50 software companies in the world. Microsoft SharePoint offers document sharing, access to databases through reports and dashboards, sharing of workspaces, tasks, calendars, blogs, wikis, surveys, a search engine and much, much more. Please refer to the product site for a full description of the functionalities provided.
Users primarily interact with Microsoft SharePoint through a web browser. But SharePoint is also integrated with Microsoft Office applications like Outlook, Word, Excel and PowerPoint. Just like the previous collaboration servers, you can also access SharePoint from a mobile device.
Products mapped to collaboration capability
The above-mentioned products can be purchased separately and installed on servers running the Windows Server operating system by your IT-department (or whoever manages your IT infrastructure), or they can be managed by Microsoft and you just subscribe to them on a monthly basis through Microsoft Office 365.
The tables below map Microsoft products with the collaboration technologies I introduced in the previous article.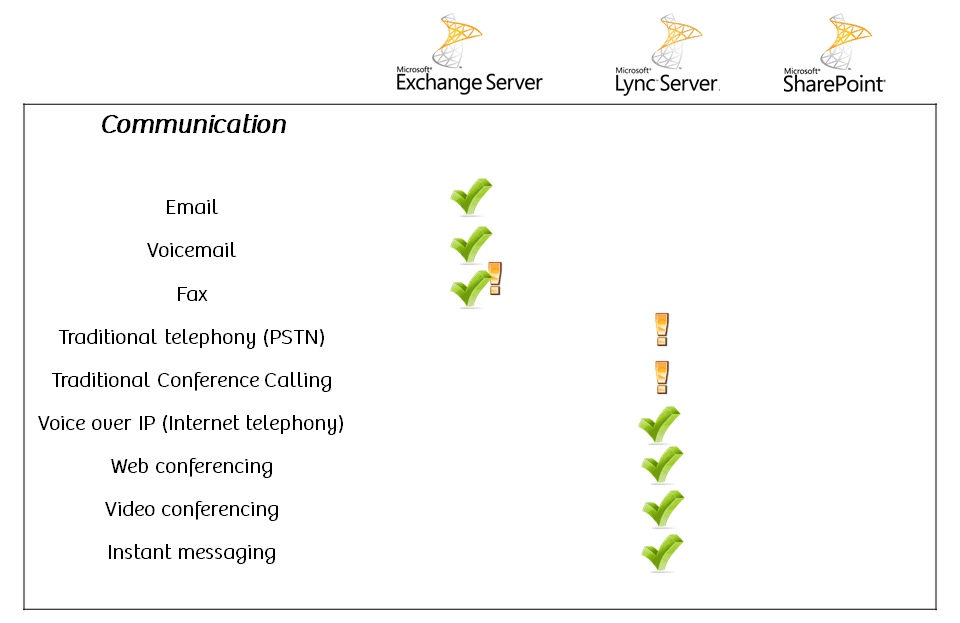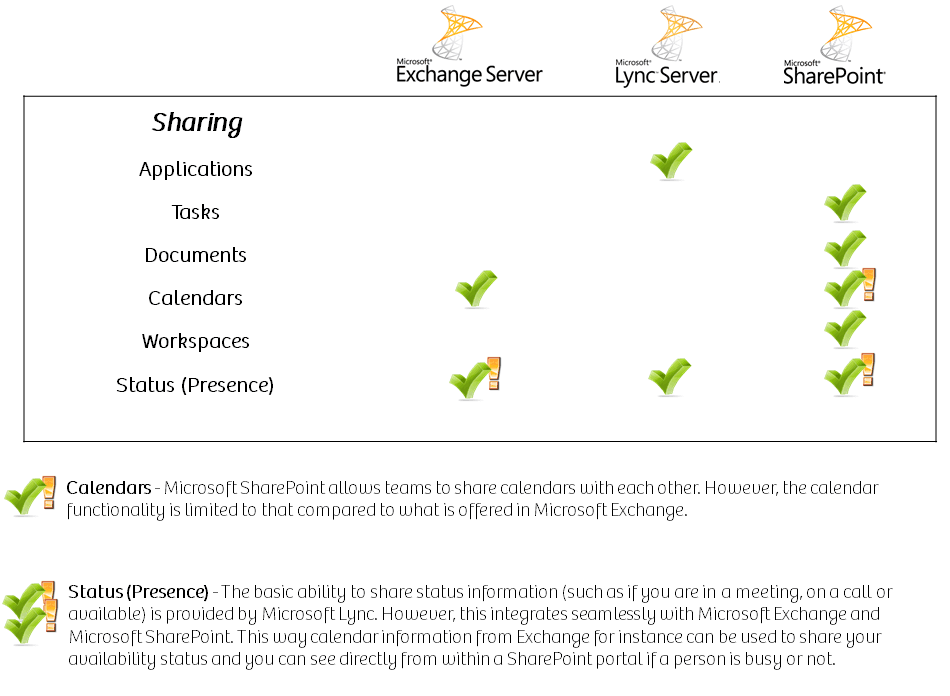 On-premise or the cloud?
Many organizations today are debating whether or not they should have Microsoft products installed on-premise or if they should let Microsoft host the software in the cloud and subscribe to the service through Microsoft Office 365 instead. For startups and smaller organizations, the answer is usually that it makes sense to subscribe to the service and have Microsoft manage the IT-infrastructure. For larger organizations it's not that easy, each organization's situation and needs are unique. I will continue to write more on Microsoft Office 365 and the different options offered in later blog posts so that you will get a better overview of what is offered.
(If you have difficulties reading this article, you can access the full article in pdf here)