Transforming the way we work
Last week, April 12th, I delivered the keynote presentation at the 1st Live Online SharePoint Saturday Gulf event with the topic, "Transforming the way we work". For those of you who missed it or weren't able to attend, you can see the full presentation below.
Welcome
Good morning (صباح الخير) and welcome everyone! (مرحبا)
It's such an honor to deliver the keynote at this first Online SharePoint Gulf Event. Even though I can't see any of you, it's wonderful to be connected to such a committed community that is so passionate about SharePoint.
Last week Ayman told me that over 1000 people from all over the Middle East registered for this online event, and expert speakers joining in from all over the world to share the latest and greatest on SharePoint, so stay tuned for some real excitement this Saturday.
In today's keynote, I'm going to give you a quick glimpse of the past so that we can better understand the future. But let me start by telling you a little bit more about myself. My name is Ulrika Hedlund, I'm a former Microsoft employee turned entrepreneur.
About me
I started working for Microsoft in my home country Sweden in 1997 while I was getting my Master's in Electrical Engineering. I started out as a technology specialist on Business Intelligence and then I had a number of different roles – Business Productivity Technology Specialist, Business Productivity Advisor, Information Worker Solution Specialist and so on – Microsoft must hold the world record in long titles, which they, of course, abbreviate so that no one outside Microsoft understand what it says on their business card.
Anyway, in 2007 I moved to Dubai with my family and joined Microsoft Gulf covering 5 countries as an Information worker solution specialist. This was my favorite job during my 13 years at Microsoft, I loved working with partners and customers to help communicate the great value SharePoint and Office can bring to organizations.
Many times I felt that there was a big gap between the IT departments that implemented new, innovative software and the business units that were meant to use it and that so much potential was unrealized due to poor adoption and ineffective usage. Therefore, in 2011 I resigned from Microsoft and founded Business Productivity. Our mission is to help customers increase the return on investment in productivity software by helping end users adopt technology and use it more effectively. We help bridge the gap between business and technology and we work closely with IT organizations and business users to jointly get the most value of the investments that have been made in productivity software. To train employees we produce short, real-life training videos that organizations can publish in their Intranet for today's "YouTube-savvy" employees. We also provide online courses on real-life business use of Microsoft productivity software for any business professional who wants to work smarter as well as customized videos on any other type of end-user software.
I've always loved to work on new technologies and I've always been very excited about the innovation of Microsoft products.
Before I talk about new innovations that will transform the way we work I wanted to reflect a bit about Microsoft as a company and the enormous changes it's going through. Change is nothing new to Microsoft. Throughout Microsoft's 39-year-old history I would say that change has been the only constant. In order to better understand the change of today, let's just have a quick glimpse back in time.
Microsoft history – Phase 1
Microsoft was officially established 39 years ago in April 1975 by Bill Gates and Paul Allen.
The first period of Microsoft's history was all about operating systems, the vision of the personal computer in every home on every desk. The little unknown company beat existing, established giants in the industry and became the leading PC operating systems vendor with MS-DOS.
Microsoft history – Phase 2
During the second decade of the company's history, from 1984-1994 the focus was on Windows and Office. With Office came a huge transformation in the way people worked. When I was a young kid my mother used to work extra at night typing documents on her typewriter. If she hit the wrong key once she had to paint over the misspelled word with white Tipp-ex. The personal computer with Word processors and spreadsheet applications revolutionized the way work got done. Even though there were strong competitors in the market both Office and Windows became dominant in their respective areas.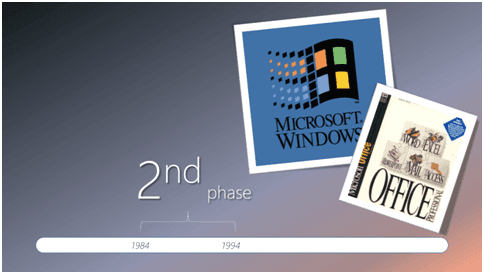 Microsoft history – Phase 3
The following decade from 1995-2005 is often called the Internet era. Microsoft started to focus on computer networking and the World Wide Web. This was the period of the "first browser war". In 1995 Microsoft launched Internet Explorer as a response to Netscape Navigator which was released the year before.
In 1995 Microsoft launched Windows 95 with key features such as multi-tasking, a new user interface and the (until today) much-discussed Start Button.
In 2000 the company announced that Steve Ballmer was taking over as CEO from Bill Gates. I remember this so well, as a company Bill Gates symbolized what we stood for, we were all worried that this would have a negative effect on the company. However, we soon realized that this was a good change. Bill Gates was still very much involved in the business, but in a new role as a Chief Technology Officer. I believe this role suits him much better actually. Bill Gates is a wonderful person, he is passionate about innovation and technology, and in this new role, he could focus more of his time on that, rather than running a multi-million dollar business. Steve Ballmer is a real character, I remember the first time I saw him on stage at one of our all company meetings in the US. He was running around like a lunatic yelling, "I LOVE this company". I'm sure you have seen some of the clips on the Internet.  I don't know if you are familiar with Swedish culture, but we tend to be quite reserved and we don't express emotions very well. I had never before in my life seen an executive act this way so I was quite shocked when I saw him! But even though he was a bit on the extreme side, I always respected Steve Ballmer for his ability to engage and motivate us as employees.
During this period in 2000, the first versions of SharePoint were launched (STS) SharePoint Team Services and SPS SharePoint Portal Server 2001. If we were all physically in the same room now I would ask you to raise your hands if you remember the very first version of SharePoint. I remember is very well. As you all know SharePoint has since then gone through enormous development and improvements and even more is to come which I will touch on later.
Microsoft history – Phase 4
From 2005 to 2010 Microsoft launched numerous products. Windows Visa was released in 2007, at the same time as Office 2007 with the Ribbon – the new fluent interface. In 2008 Microsoft launched Azure and in order to strengthen their position in the consumer world, Microsoft opened a number of Microsoft retail stores. Unfortunately, these are only in North America at the moment, I would love to have one here in Dubai Mall. During this period iPhones and Android phones exploded the mobile market, in order to stay in the game, Microsoft made major investments in mobility with Windows Phone 7 being released in 2010 and a partnership with Nokia in 2011 which later turned into an acquisition of Nokia's devices and services business in 2013.
Microsoft history – Phase 5
I would say that Microsoft is now in its fifth period which started about three years ago in 2011. As I'm sure you've noticed Microsoft has gone through a rebranding of logos, products and services. Today Microsoft's main focus is cloud and mobile –  products and offerings such as Office 365, Azure and Windows are key as well as being able to work from anywhere on any device. When I worked at Microsoft I was often told that we as Microsoft were proprietary and monopolistic. Today Microsoft is truly committed to transparency and applications across platforms, and I believe the launch of Office for iPad just a few weeks ago is a fantastic example of this.
Satya Nadella
Two months ago in February, there was another change of leadership at Microsoft. 46-year old, Indian born Satya Nadella was announced as the CEO for Microsoft replacing Steve Ballmer.  Satya Nadella isn't new to Microsoft, he has been there since 1992 in a number of roles across various divisions. Before he was announced as CEO he was president of the cloud and enterprise group heavily engaged in Azure.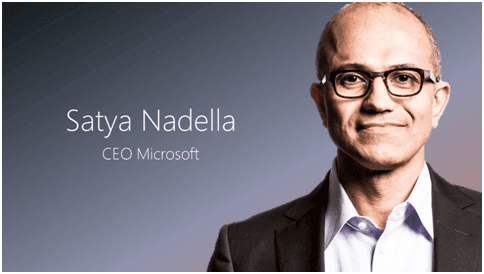 Last week I was on an Emirates flight reading an article about Satya Nadella in the onboard magazine. In that interview, he said that one of his goals is to encourage innovation. I've always believed that Microsoft is an innovative company, but they don't always get credit for many of the exciting things they invent.  With Nadella's focus on cloud and mobile and his commitment to foster innovation, I believe Microsoft will continue to have a huge impact on the way people work in the future.
SharePoint – a success story
SharePoint – One of the most innovative and successful products in Microsoft's history that is changing the way employees within organizations perform their day to day work is SharePoint. As Jared Spataro, General Manager for Office shared during the SharePoint 2014 conference in Las Vegas in March, the SharePoint business is continuing to grow at an enormous speed. It is still seeing double-digit revenue growth and during the last 12 months, there has been a 500% increase in active SharePoint online active users.
SharePoint used to be solely an on-premise product but today SharePoint Online plays a key role in Office 365, which is an astounding 1.5 billion dollar business. Office 365 has now taken over as the fastest growing commercial business in Microsoft's history – a title that SharePoint used to hold.
The first phase of Office 365 was all about economics, hosting SharePoint, Exchange and Lync for organizations to cut costs. In the second phase of Office 365, it's not about hosting – it's about the increased speed of innovation.
The SharePoint team's four key beliefs
Number one, they believe the future of work is about:
    1. Working like a network.
In our personal lives, we use social media to build relationships and share updates with family and friends on facebook, we connect with people all over the world using Skype, we use LinkedIn to find new employees or a new job and we find out about the latest developments anywhere in the world via Twitter. The easy and natural flow of information between people through social networking should effortlessly be applied to the workplace so that organizations can reap these benefits of this type of information sharing.
The second belief they have is in:
   2. Personalized and proactive insights.
As Jared Spartano so well said during his keynote, today with the enormous amounts of data overwhelming us, we are data rich but knowledge poor. It is necessary to cut through the noise. In order for people to accomplish we need to be able to have clarity and focus.
Their third belief is in
   3. Customized solutions
One size does not fit all. The team believes in an open development platform that fuels customized solutions. Solutions need to be delivered quickly – in weeks not years.
And finally, the SharePoint team's fourth belief is that the future of work is only possible if:
   4. People are empowered to work from anywhere on any device.
And again, the release of Office for iPad is a fantastic example of how that belief is becoming a reality that is impacting the way people work all over the world.
During the SharePoint conference in Las Vegas in March, the SharePoint team demonstrated some of the amazing new innovation that is being released in Office 365 later this year. I'd like to briefly touch upon some of these innovations. If you want to know more I recommend that you read the Office Blog and that you watch the recorded sessions from the SharePoint conference if you haven't already done so.
I've been a SharePoint enthusiast since the very beginning and even though I was very excited about Microsoft's acquisition of Yammer, I've found it a bit difficult to explain to end users how to easily and effectively use SharePoint and Yammer together. Luckily Microsoft is working hard to unite the experiences of these two technologies to make it seamless to the end user.
Groups
Groups is a fantastic example of that. At a high level, you can say that the team have taken the Groups concept in Yammer and extended it across all of Office 365.
Groups can now be created and accessed from anywhere in Office 365 and your group conversations follow you whether you are in your Outlook Web App, working on a document in the Office Web Apps or on a SharePoint site. The beauty of this is that whatever your preferred work style is, everyone can easily stay up to date and participate in the social workplace group collaboration.  Another very cool innovation from the team is the Office Graph.
Office Graph
You can think of Office Graph as an intelligent log that saves your activities and behavior throughout your workday – what documents have you viewed or modified, which posts you have liked, who you have had meetings with, shared documents with or communicated with. The Office Graph keeps track of both "public" interactions, such as documents you have edited that are available to the entire organization on a public team site, as well as "private" interactions such as for instance email that you have sent.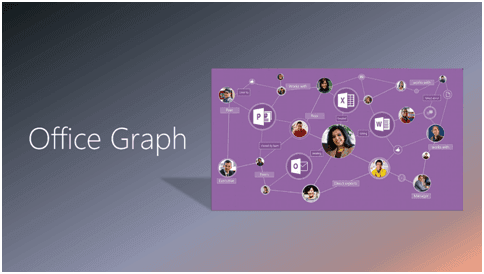 The Office Graph uses very sophisticated machine learning techniques to connect you to the documents, conversations, and people around you that are most relevant to you. By looking at the way you work, the Office Graph learns and becomes more intelligent over time. So how can this be of value in your day to day life you might ask? Well, the answer is in many ways. The intelligence coming from the Office Graph can be leveraged by a number of different applications.
Codename Oslo
One such application that is currently being developed in Norway by the FAST search team goes under the codename Oslo. Oslo, which is a "search and discover" application, will enable users to navigate through the enormous amounts of data circulating within organizations today to quickly find documents, websites and videos that are of most importance and relevance uniquely to them. Instead of having to actively search for something, Oslo displays things that ought to be of importance to you as a user.
Let me give you a practical example. Say for instance that you got an email with a link to a video posted by the CEO of your company. You see the email but you don't have time to watch it now so you make a note to see it after the meeting that you have scheduled with your team.
When you open up Oslo and check out "Trending around me" you can see that the video by the CEO has over 957 views and over 90 comments. There is probably something important being said in that video that you need to be aware of before your team meeting. Perhaps the CEO announced major organizational changes that everyone will be asking you about, opening up the video and skimming through the comments you can quickly see what is going on and you won't feel stupid going into your team meeting all clueless. The examples of how Oslo can be used to add value are endless.
With Oslo, you can make sure to stay on top of things that are important to the people around you. It helps you cut through the enormous amounts of data and personalizes the experience altogether and instead of presenting information in a boring list view that we are used to today, Oslo presents the data with rich visual graphics. Oslo will be available as both a Windows 8 app and an Office 365 SharePoint App.
The final piece of innovation that will transform the way we work is something that lies very close to my heart and something that I've been very engaged in the past few years – video!
Office video
Office Video is an out of the box enterprise video solution that will be released in Office 365 later this year. With Office Video organizations will be able to create rich media communication channels with videos which will be easily accessible to all employees. The videos are streamed leveraging Azure Media Services and presented to users via SharePoint on any device.
As you can see, the amazing innovation coming from Microsoft is fundamentally transforming the way people work, all over the world and I'm extremely excited to be part of this exciting journey.
Thank you!
It's been an honor to deliver the keynote session to you today. I hope you have enjoyed the session. Please feel free to reach out, my email is ulrika@businessproductivity.com. Please visit our web page and become a fan of our Facebook page to learn more about what we do. We're always interested in finding ways in which we can help customers get more value out of the amazing software they purchase and we warmly welcome new partnerships and any other types of joint initiatives.
Thank You شكرا
(If you have difficulties reading this article, you can access the full article in pdf here).