The benefits of the Office Apps and the Office Store
Are you using Office 2013 or SharePoint 2013? Did you know that you can extend the functionality further by downloading Office Apps through the Office Store? Office Apps are light-weight web applications that you can add and make accessible through the Microsoft Office/SharePoint interface. In this week's blog, I'll give you an overview of how you can benefit from using the Office Apps and the Office Store.
What are Office Apps and Office Store?
If you have an iPhone or iPad you are probably familiar with Apple's App Store, a place where you can browse and find apps to install on your iPhone/iPad. The Office Store is very similar to that, but it contains apps, so-called Office Apps, approved by Microsoft for use with Office. In the Office Store, you can find apps that are developed specifically for Outlook, Excel, PowerPoint, Word, Project and SharePoint. You can easily add them to Office 2013 by going to the Office store, finding the app you want and just clicking Add.
To add apps to SharePoint, proceed to add an app like you normally would to your site, but select one from the SharePoint Store instead (this is basically a filtered view of the Office Store that only shows the SharePoint apps).
Examples of how to use Office Apps
The Office Apps provide a wide range of functionality and come in different form factors. The way the apps are accessed and activated is different depending on the functionality of the app and the Office application. For example, most apps for Outlook appear in the body of an email. They load when you click the associated hyperlink visible in your emails. Below is an app for Outlook provided by Bing which reads through your email to identify an address and then maps it to a Bing map that is loaded directly into the email.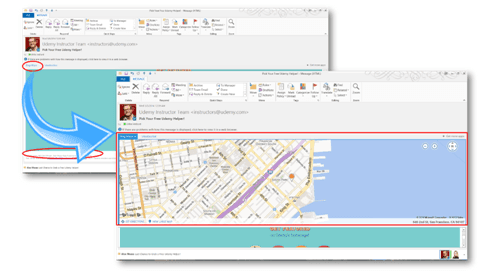 Another example is the Wikipedia Office App which is displayed in the taskbar in Word and Excel. With the Wikipedia app, you can look up things on Wikipedia without having to leave your document/spreadsheet.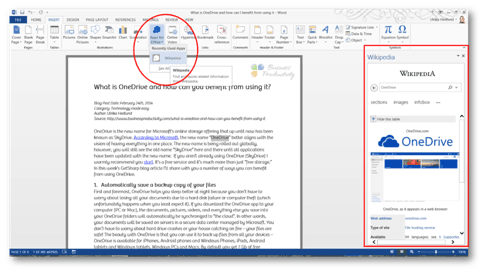 To add an Office App to SharePoint, select "SharePoint Store" from the source list of available apps to add to a site. Here is an example of a SharePoint app called "Bright Banner", which allows you to add images/links of your choice in an attractive slide banner on your site.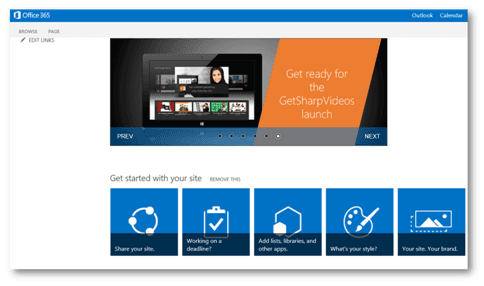 What are the benefits of the Office Apps and the Office Store?
If you've previously been suspicious of any add-ins that might negatively impact the performance of your Office applications you should give the Office Apps a try. One of the benefits of the Office Apps is that they run completely isolated, meaning that if an app crashes, it doesn't impact the Office application you are currently using. You can add multiple Office Apps to your Microsoft account without worrying about the performance of Office since only the app that is currently in use is active. With the Office Apps, you can get the additional functionality right where you need it – in Microsoft Office, which is where most of us information workers spend hours every day.
The Office Store provides a "one-stop shop" for Office Apps. As a user, it's much easier to see what is available in one single location rather than having to browse through various websites. Since all apps that are published in the Office Store have gone through an approval process you can trust that they are legitimate applications. Another benefit is that all apps purchased through the Office Store go through the same billing process. So instead of you having to deal with various different payment gateways, you always use the same. You can store your credit card information in your Microsoft Account and have it easily accessible every time you want to purchase an app.
Be aware of "free" apps and uneven quality
Even though the Office Apps and the Office Store bring a lot of advantages to end users, there are certain things you should be aware of. When the Office Store was first introduced, the options for how app vendors could charge for their apps were very limited. App vendors could choose from providing their apps free of charge or charge a one-time fee (today this has been extended so that apps can be offered on a subscription basis as well).  To get around this initial limitation, some vendors provide their apps in the Office/SharePoint store free of charge, but in order to use it fully, you need to have a license from the vendor. So just be aware that "free" doesn't always mean "free". You should also be aware that even though the apps are approved by Microsoft the quality of the apps varies greatly. I've found many of them to be quite useful (especially for SharePoint), but many of them are just a waste of time and energy if you ask me. So don't just blindly add all the apps in the Office Store, do some research to see which ones are really worth your while (I'll make sure to help you out by recommending some in future blog posts).
(If you have difficulties reading this article, you can access the full article in pdf here).