Smart and effective notes using Microsoft OneNote
In April we launched our first course, "Eye-catching presentations using Microsoft PowerPoint 2010" on Udemy (the online learning platform where experts around the world can share their knowledge). During the next couple of weeks, we'll take all the 10-minute video tutorials on Microsoft Office 2010 that we have published in our video library on www.businessproductivity.com and produce 1-2 hour long courses that we will publish on Udemy.
These courses are for those of you who want to invest 1-2 hours of your time to get all the productivity advice on a product in one go.
Today I'm happy to announce that our course, "Smart and effective notes using Microsoft OneNote 2010" just went live on Udemy.  In this week's blog article I'll tell you more about the course.
Getting started with a digital notebook
Ever since Microsoft introduced OneNote in 2003 I've been a big fan of the application. Back then I had a Windows XP Tablet PC edition so I could use a digital stylus to take handwritten notes on my laptop. For the first time, I could get rid of my paper notebook all together, and keep all my notes in a digital notebook that I always had with me.
Today, there is a wide range of sleek tablet devices that come with a digital stylus. You don't need to have a special edition of Windows, the support for digital ink is included in Windows by default. In the first lecture of the course called "Smart and effective notes using Microsoft OneNote 2010" I show how you can organize your notes using different notebooks, sections and pages.
In the course, I will show you how to search your notes and how you can use Microsoft OneNote when you are doing online research. The benefit of using OneNote for your research is that you can easily structure the information you collect, the date and hyperlink is automatically inserted so that you can refer back to the source, and you can combine a number of different information types such as text from various web pages, recorded audio and video from meetings and seminars.
Sharing a notebook as a team
In addition to saving all your own notes in your OneNote notebook, you can create a notebook that is shared with your team. That way you can share notes related to a specific project you are working on or notes that concern the team in general.
Taking effective notes
One of our most popular blog posts is "How to take effective meeting minutes".  Even though most of us are used to taking notes from the time we were children in school, very few know how to take effective notes. In the course, I'll share with you how to take effective notes and how you can use OneNote to take meeting minutes. If you take your meeting notes in OneNote you can save time by automatically inserting meeting information from Outlook, you can easily keep track of action items by tagging them and you can easily share your notes in an email with the rest of your team with just a click of a button.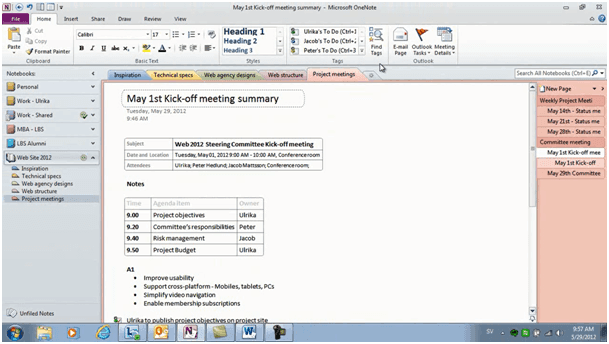 Using OneNote to prepare and conduct interviews
In the last lecture, I show you how you can use OneNote to prepare and conduct professional job interviews. Whether or not this is something you do in your job, you can still learn from how I use OneNote to structure my information and hopefully you can apply that learning to a situation that is more common in your daily work.
An additional format of training
I'm really excited to be able to offer our training in an additional format via Udemy. Bridging the gap between business and technology and showing how you can increase your productivity by better work methods and effective use of technology is our main objective. Making our training available through an increased number of channels is an important step to reach our goal of increasing the productivity of business professionals around the world.
(If you have difficulties reading this article, you can access the full article in pdf here)