SharePoint 2013 Online – My five favorite enhancements
Today, November 12th, the SharePoint Conference 2012 kicks off in Las Vegas, USA. This year there are loads of interesting sessions covering the new version of SharePoint – Microsoft SharePoint 2013, which was released to manufacturing a few weeks ago. Some of the highlights of Microsoft SharePoint 2013 include new social capabilities, improved search, integrated task management, SharePoint apps and the SharePoint Store. I have been able to try out a preview of SharePoint 2013 Online through the Microsoft Office 365 Small Business Premium Preview and I wanted to share with you my personal top five favorite enhancements.
1. A fresh new design
Just like all the other Microsoft Office 2013 applications, SharePoint 2013 has a new sleek, Metro-style design. In the beginning, it felt a bit sterile, but after a while, I got used to it and now I definitely prefer it to the previous version's design. They've changed the layout and names of menus and options so in the beginning I was a little lost and it took some time to swiftly navigate the sites. The experience is vastly improved since SharePoint 2013 is much faster and more responsive. I also like the tiles (blue squares below with moving text) that make the site feel alive.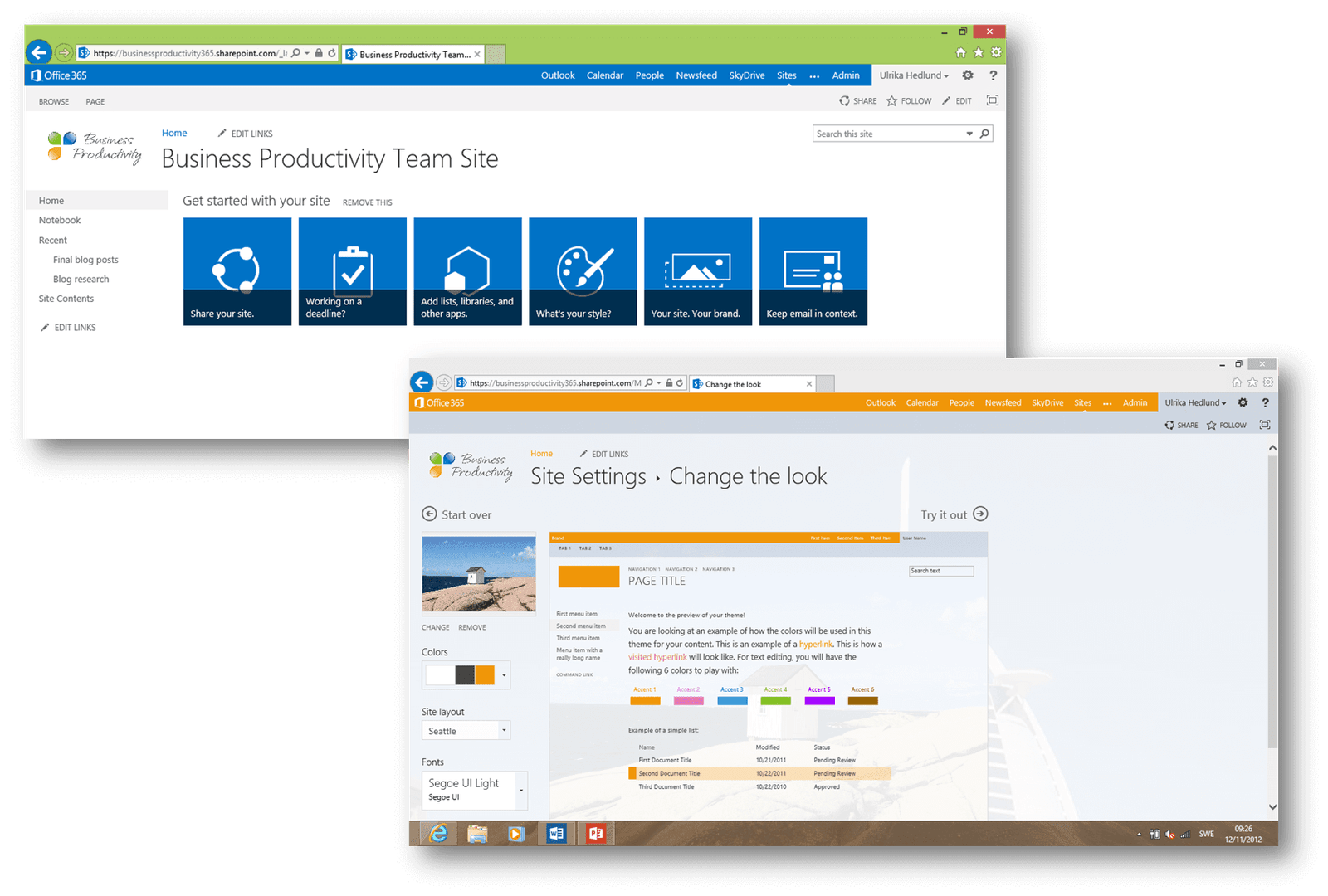 Changing the look and feel of your site is really easy and you have a number of great templates to choose from. You can add a background picture to your site, change the coloring scheme and the fonts used so that the design of your site goes hand in hand with your corporate branding.
2. Easier to save documents to SharePoint libraries
For years I have been encouraging customers to save documents to document libraries in SharePoint to facilitate collaboration and improve knowledge management. But there is still an overwhelming number of users who share documents over email or traditional file shares instead. One of the hurdles has been saving documents from Microsoft Office applications to libraries on SharePoint. With Microsoft Office 2013 and SharePoint 2013 saving to document libraries becomes effortless. Through the Office 2013 "Save As" interface you can easily access and browse your SharePoint libraries.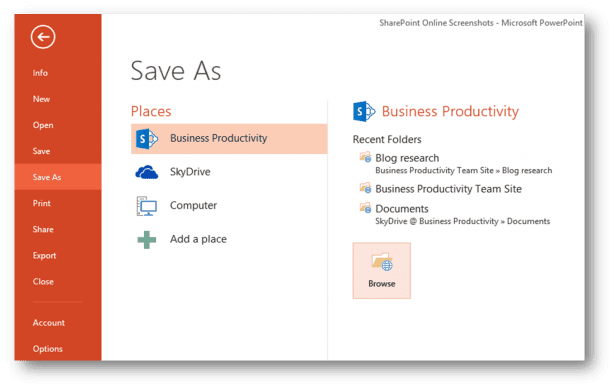 You can also easily drag and drop files from your local computer folders to SharePoint libraries.
3. Built-in synchronization of files
One of the major benefits of the new version of SharePoint is the built-in, two-way synchronization of document libraries to your computer using SkyDrive Pro (now called OneDrive for Business). This enables you to read and edit SharePoint documents even if you are offline. Later when you are online again the documents will be synchronized back to the SharePoint library. You can synchronize any document library in SharePoint 2013 by clicking the "SYNC" button in the top right corner.
Your SharePoint libraries will be accessible through Windows Explorer just like any other folder on your PC. This is a great improvement!
4. Seamless ecosystem of applications
Just like you have a Windows Store where you can download applications to your computer running Windows 8, you now have a SharePoint Store where you can find "Apps" to install on your SharePoint site. This is a great way to distribute and find useful applications. You can filter the Apps by different categories such as "Productivity" or "News & Weather" you can also sort the Apps by different tags such as "Highest rating" or "Newest".
5. Adding videos is now straightforward
My final favorite (and perhaps this is on my list due to my fondness of videos as a medium for learning) is the improved ability to add videos to your SharePoint site. You can add videos by uploading them from your computer, by adding links to videos on other sites, or by embedding code. Now it will be really straightforward for companies to add training videos, executive keynotes and product overviews to their employees. We will, of course, be delighted to offer you our Business Productivity Tutorial videos on your SharePoint 2013 site. Don't hesitate to contact us at info@businessproductivity.com to learn more about our corporate offering.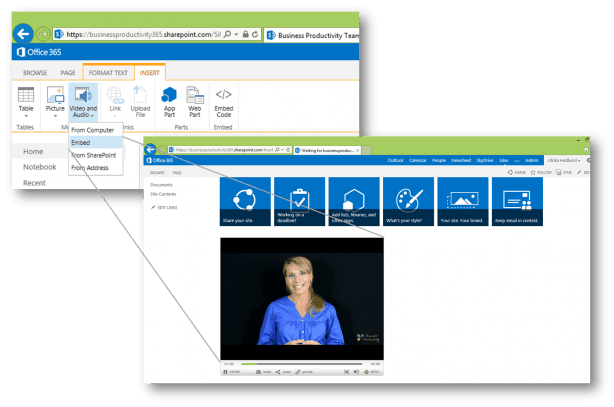 Expect a learning curve
As with all new applications that have new user interfaces you can expect that there will be some resistance from users to adopt the new application. When it comes to change and user acceptance it's important that organizations focus on the value and the benefits end users will get if they embrace the new solution. For Windows 8 and Microsoft Office 2013 there will be a learning curve before users are fully productive. Again, you can count on us to help you with that learning through our coming videos on this new wave of applications from Microsoft. So stay tuned!
(If you have difficulties reading this article, you can access the full article in pdf here).