Organize Your Life with Microsoft To-Do
This article was last updated on July 12th, 2018 to include the new features introduced in Microsoft To-Do.
Do you find it hard to keep track of things? Have you given up on Outlook for task management because it's just too cluttered? Would you like a simple way to keep track of your to-do's?
Perhaps Microsoft To-Do could be an alternative?
To-Do is a simple, to-do list app from Microsoft available on Windows 10, Android, iOS, as well as via the web, as a stand-alone app or accessible via the Office 365 portal. To-Do has a very easy to understand user interface and can be used right from the get-go, unlike many other to-do list apps. It helps you plan your day, create task lists, set reminders, and keep track of your tasks. My favorite feature which makes Microsoft To-Do stand out from the sea of to-do list apps is "My Day", which provides you with a clean, smart view of the things you have planned to do today. Let's have a deeper look at Microsoft To-Do.
Getting started
To-Do is easy to get started with and only requires a Microsoft account. The straightforward user interface and lack of excessive features can be a blessing for those who aren't tech savvy. To add a task just type it in and it's added to your "To-do" list. You can create multiple lists, and tasks with sub-tasks in just a few taps. You can color code, apply themes, and add emojis on the lists to easily distinguish between various tasks.
Once you've completed a task, just tap the little circle and you will be greeted with an annoying but gratifying "ding" (which of course can be turned off in the settings.)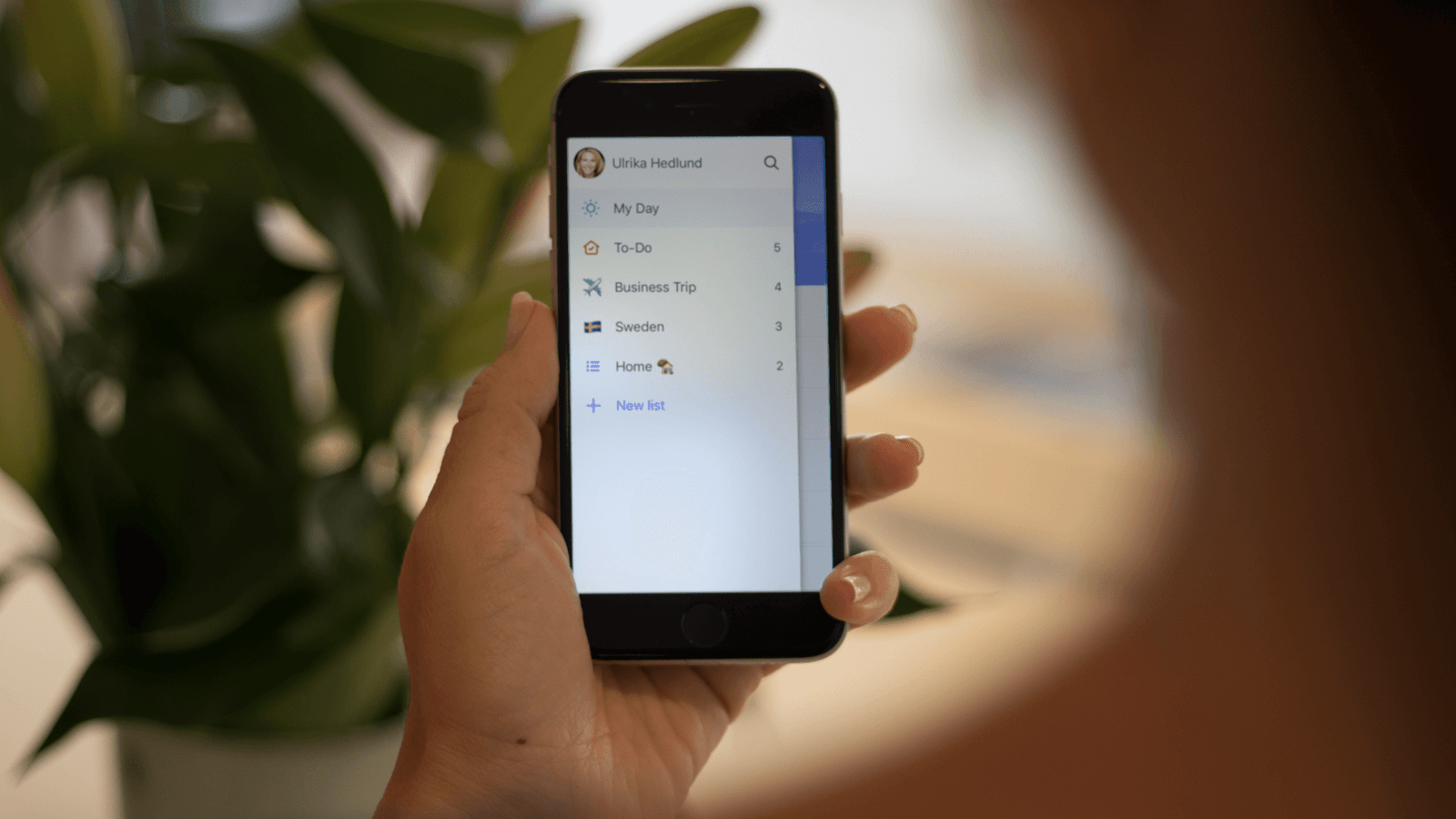 "My Day" – A fresh start every day
"My Day" is a view of the to do's you want (should…) to do today. Either you can add to-do's directly to your "My Day" view, or you can get help by selecting tasks from your other lists. By tapping the light bulb icon, you get suggestions for tasks that you might want to add to My Day. This way you get a better overview of the many tasks and reminders buried in various lists. It's important to note, that by setting the due date for a task to today, doesn't automatically add it to your "My Day" view  (at least not at the moment – though this might change since many people find that weird). You decide for yourself, what to add to your "My Day".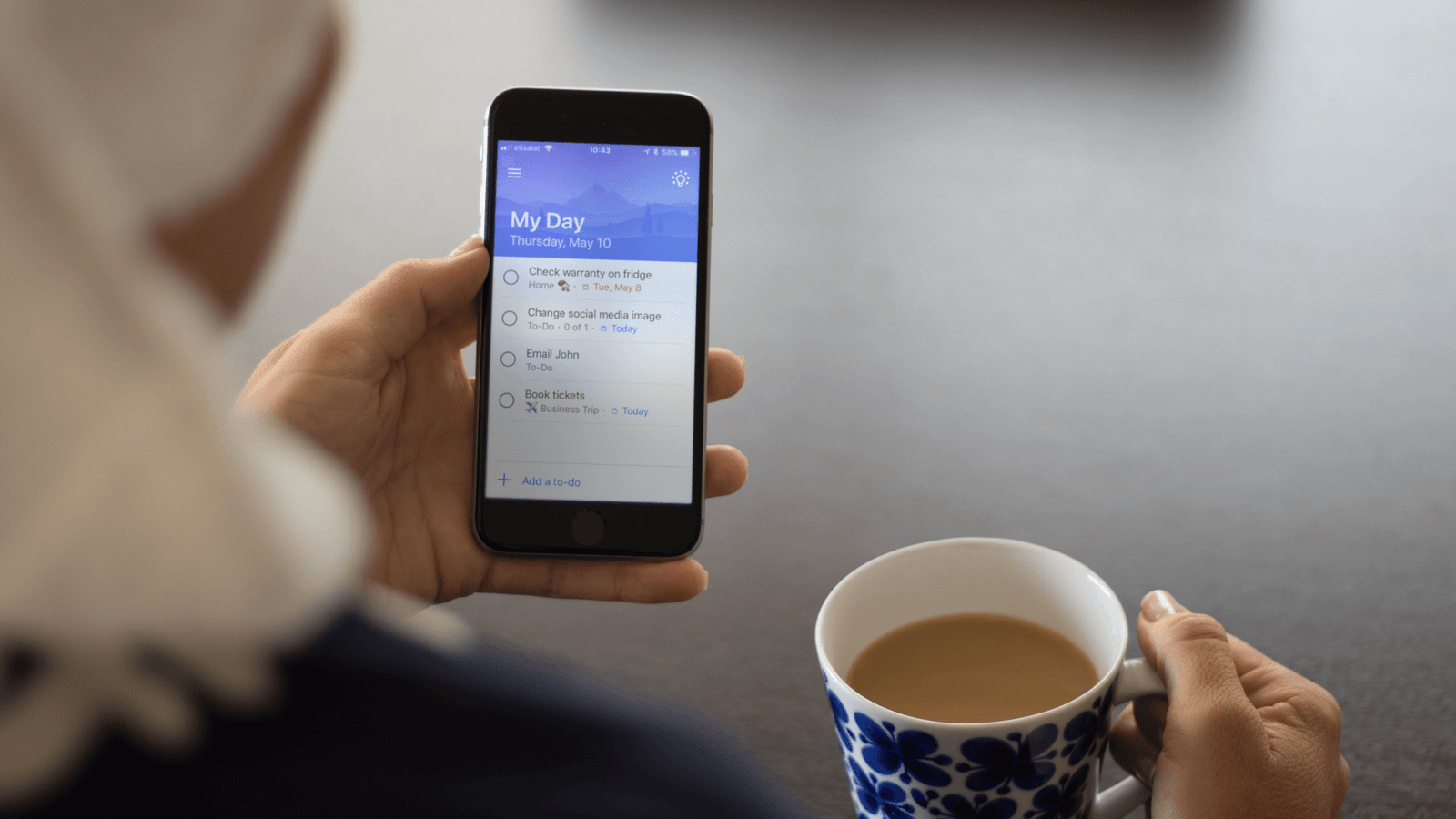 Access your To-do's from anywhere
As soon as a new task is added to the list, it instantly syncs with every device that has the To-Do app where you are signed in with the same Microsoft account. If you are using Outlook, your To-Do tasks are also synchronized with your Outlook tasks.
Using a task list effectively
A best practice for task management is to add single item tasks that you don't have scheduled in your calendar, to your to-do list. Try to break down your tasks so that they are as granular as possible using sub-tasks (these are called "steps" in the To-Do app). It's easy to get overwhelmed with a long to-do list. In order not to bother your brain with tasks that you anyway can't do anything about (for instance to see the task of fixing the toilet seat at home when you are in the office), separate your to-do's into different lists. If you want to learn more about effectively managing tasks, I can warmly recommend a book called "Personal Productivity Secrets" by Maura Thomas.
What's missing?
There are a few essential features that I'm missing*, including being able to share to-do lists with others (especially my husband) and being able to add multiple accounts so that it's easier to separate between personal and work tasks. Also, integration with various other productivity tools and calendars including Google Calendar, iCloud Calendar, Evernote and so on is, of course, important for the large group of people that use these daily.
*Update (12-July-2018): Microsoft has finally introduced the two most requested features on UserVoice to its To-Do app.
You can now collaborate with different To-Do users and share various To-Do lists. The other addition to the app is the ability to break down tasks with multiple steps into subtasks.
To find out more about the new features introduced in To-Do, check out Microsoft's article here. Keep up-to-date with To-Do's features by checking out Microsoft's Tech Community on To-Do here.
You can keep track of some of these requested features, and others on the Microsoft To-Do UserVoice web page, where users vote for new ideas and request new features for the app. Here you can see that Microsoft is planning to bring more features to the app including share lists, Outlook Mail integration, Cortana integration, Mac Desktop app and so on.
Closing
Overall, I really like the Microsoft To-Do app! It's easy to use, it has a clean interface and it does the job of de-cluttering my mind and giving me a sense of control! Being able to start fresh every day with a clean "My Day" instead of every morning being reminded of all your unfinished to-do's is a blessing in today's hectic life!