Microsoft Office 2016 – the choice for productivity gurus
As more and more people replace their laptops for smartphones and iPads, it's only natural that the software we use on a daily basis is adapted for these types of devices with smaller screens that we interact with using our fingers. Naturally, there is a limit to what we can accomplish with these devices, and so productivity takes a hit. As a true productivity guru, who always carries my large laptop (with a proper keyboard) and mouse with me, I'm very happy to hear that Microsoft understands the need for two different versions of Office – one adapted for smaller touch screens with less functionality and one for "traditional" computers, that have a keyboard and mouse, that provides the full functionality required for optimal productivity. In this blog post, I'll share with you the two upcoming versions of Microsoft Office.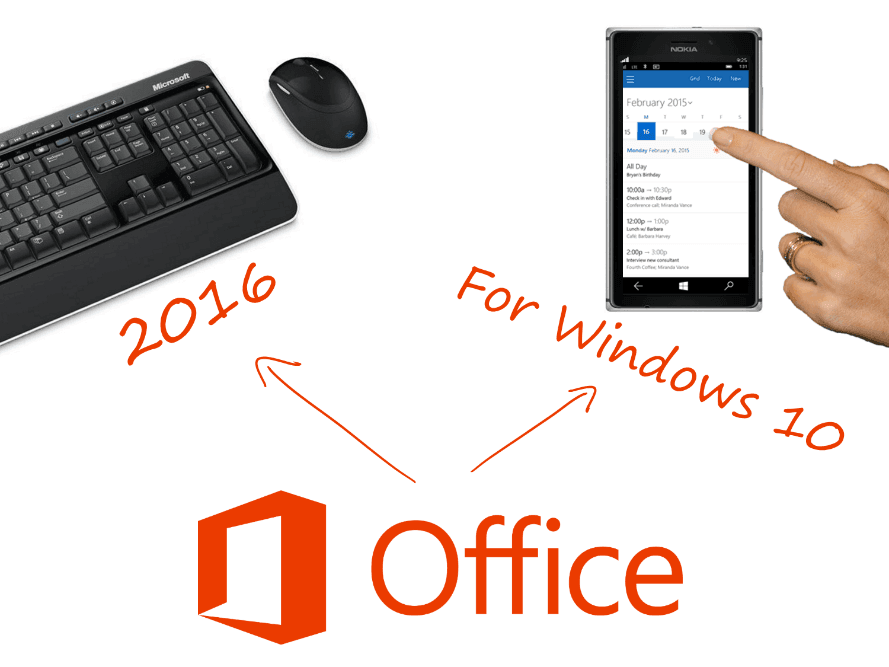 Office 2016 – the full productivity suite for traditional computers
According to Julia White, general manager for the Office Product Management team, the next version of Microsoft's productivity suite for desktops will be called Office 2016. Even though very little has been revealed about this next version of Office, we are promised the full, rich experience that we are accustomed to in previous versions of Office. No official date has been communicated yet, but we can expect to see a launch in the second half of 2015. According to TechRadar, Microsoft will launch Office 2016 simultaneously as Windows 10 in October 2015.
Office for Windows 10 – productivity apps for touch screens
Office for Windows 10 is a direct result of Microsoft's new vision, "mobile-first, cloud-first". Without having to compromise, Office for Windows 10 is built from the ground up with touch in mind. Office for Windows 10 will include versions of Word, Excel, PowerPoint, OneNote and Outlook. It will be released in two flavors, one for devices with smaller screens (8-inch or less) and the other for devices with larger screens. To see a demo of the preview check out the video below:
Exciting times for productivity gurus
Considering that my entire professional life has revolved around Microsoft's productivity tools, I'm very excited to learn more about the next versions of Office. As a company, you can rest assured that Business Productivity will produce videos to help you get the most of your productivity software!
(If you have difficulties reading this article, you can access the full article in pdf here).