Microsoft's "SCROOGLED!" campaign gains momentum
The past two weeks the media has been filled with articles about Microsoft's "Scroogled!" campaign where they accuse Google of invading people's privacy with their targeted email ads. In the campaign, Microsoft encourages users to switch over from Gmail to Outlook.com. By going to the campaign site www.scroogled.com, users can sign a petition addressed to Google's Executive Chairman Eric Schmidt, saying, "Please stop reading the contents of our Gmail to sell ads." Some experts are saying that this negative campaign, very common in politics, is hurting Microsoft and that the campaign isn't gaining traction. In this week's article, I wanted to give you a better overview of what the campaign is all about and the current momentum.
An overview of the Microsoft "Scroogled!" campaigns
The first phase of the "Scroogled!" campaign was launched at the end of 2012. The advertisements warned holiday shoppers that searching for products on Google Shopping would not give you true results – instead of giving you the most relevant search results, Google's "pay-to-rank" practice would return products based on which advertiser paid Google the most. Users were encouraged to switch to Bing that guaranteed true search results.
The current and second "Scroogled!" campaign was launched February 6th, 2013. In this wave of the campaign, Microsoft encourages people to switch over from Google's email service Gmail to Microsoft's own, newly launched Outlook.com by informing people about the privacy risks in Gmail. If you go to the campaign site, you can read research results about email privacy, compare Gmail and Outlook.com and sign the petition. As part of the campaign, a number of videos have been posted, showing people who have gotten their privacy intruded by Google. In one video you will see an example of someone who had written an email about their cat dying where Google targeted an ad about a free pet exam coupon.
Misleading messaging
There are certain elements in the video advertisements that are a bit misleading. For example, in the videos, you can see humans (or cartoons of humans) reading through personal emails sent to people using Gmail.
This is naturally not the case. Google does not have people employed to read through customers' email. They do however use a computer algorithm that scans for keywords in the emails and Google uses those keywords, along with other information from your account such as age and gender, to target ads.
Google's response and alternatives
Google has issued a statement (which is similar to the text on their support page about Gmail) that no humans read people's email:
"Advertising keeps Google and many of the websites and services Google offers free of charge. We work hard to make sure that ads are safe, unobtrusive and relevant. No humans read your email or Google Account information in order to show you advertisements or related information. An automated algorithm – similar to that used for features like Priority Inbox or spam filtering – determines which ads are shown," read the statement from Google.
If you want to stop getting targeted ads you can use the HTML view of Gmail or you can connect another email client to your Gmail account. Another alternative is to pay for an ad-free Google Apps account for $50 a year.
The target of 100,000 signatures has been reached
On February 24th at 10.05 am, the petition against Google reached 100,000 signatures.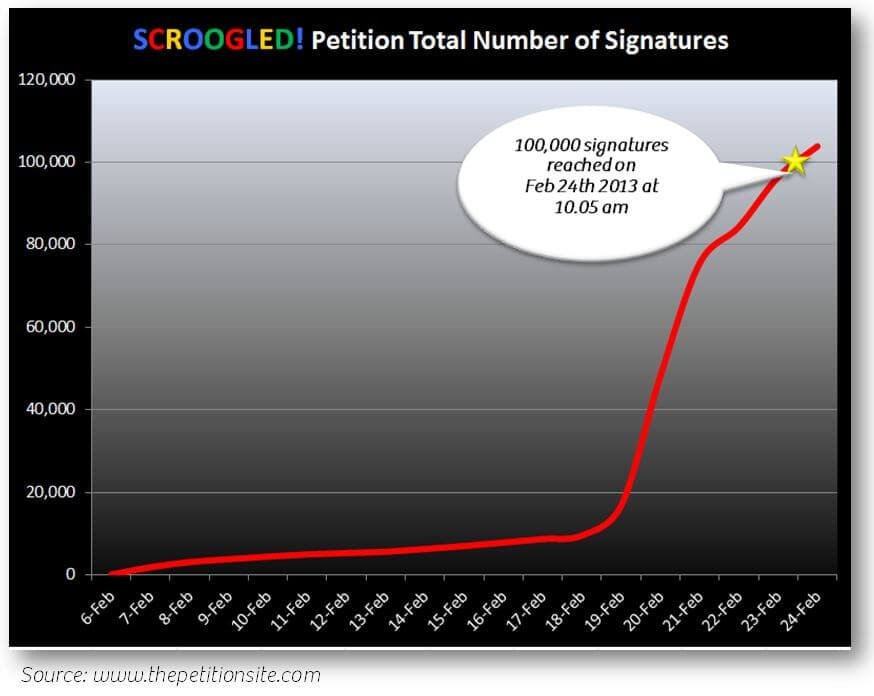 The petition, which was launched February 6th, was slow at first and many people doomed it a failure, but in the past few days, as the campaign has been rolled out internationally, the number of signatures has increased dramatically. The number of signatures at the end of February 24th, was 103,874, beating the petition goal of 100,000 signatures.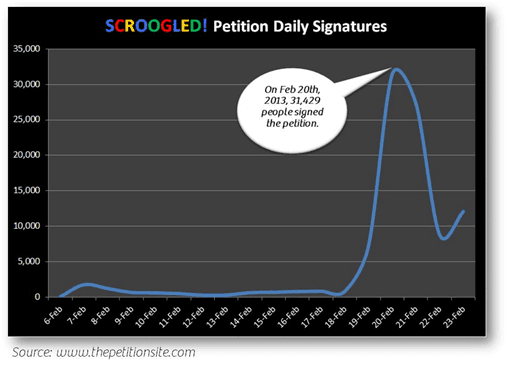 Is it really a big issue?
Some people have no issues with a computer algorithm going through their email; they prefer to have ads relevant to them. Most email service providers have computer-based algorithms to scan email for keywords to detect spam, so some people don't think this is very different. Many people, however, do not approve, and even though Google makes no secret of their advertising mechanisms, many people are taken by surprise and they are appalled with this revelation as evident by some of the comments from the people who have signed the petition. I'm all for relevant advertising, but I believe that people should have a choice in what information gets used to target those ads. Personally, I don't want my personal email communication to be a source of advertising.
(If you have difficulties reading this article, you can access the full article in pdf here)