Increased productivity with Skype in Outlook.com
Last week on August 19th, Microsoft announced that Skype is now available as an integrated service in Outlook.com for users in the United Kingdom, Germany, Brazil, France, Canada, and the United States. Microsoft is working hard to roll out the service worldwide. The Skype Outlook.com integration means that you can send instant messages, have voice and video conversations with your Skype contacts directly from within Outlook.com. Not having to switch between applications and having an integrated communication experience really increases your productivity. In addition, using Skype instead of traditional telephony saves you a lot of money. In this blog post, I wanted to share with you how to get started using Skype in Outlook.com.
1. See if Skype is available for Outlook.com in your region
You will get an email informing you that Skype is available in Outlook.com in your region, it will also be visible on a banner in Outlook.com. Another way to see if Skype is available is to log in to Outlook.com and click on the "Messaging" icon in the top right corner. Here you can see the different services that are available. If Skype is available you should see the little Skype icon where it says "Connected to" in the bottom right corner.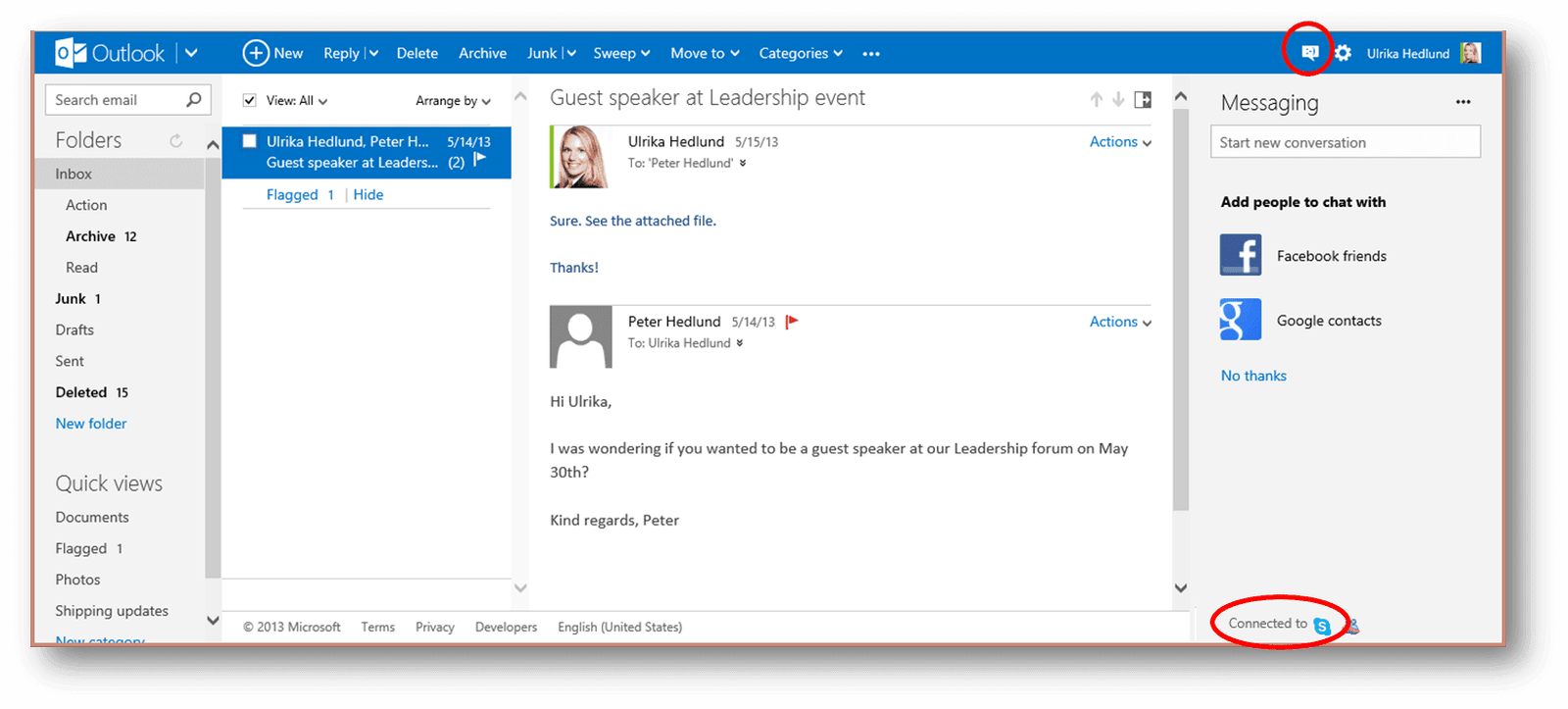 2. Link your accounts
If you are already using Skype you probably have a Skype username and password. In order for you to use Skype within Outlook.com, you need to link your Skype account with your Outlook.com account. You only need to do this once. A window will open up where you will be asked to enter the Skype account you want to link to Outlook.com.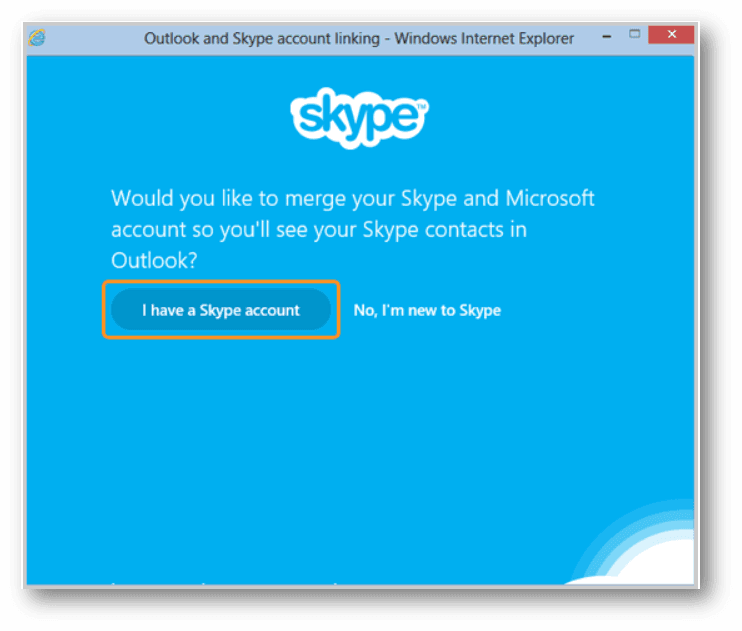 3. Install the Skype add-in
Before you can start using Skype within Outlook.com you need to install the Skype Web Plugin. This is not the traditional Skype desktop application, but a small plug-in which enables you to utilize Skype functionality directly through the Outlook.com interface. The plug-in is available for a number of different browsers. You only need to install the plug-in once, it will work with multiple browsers on your computer.
4. Start using Skype in Outlook.com
Now you are ready to start communicating with your contacts using Skype. There are a number of ways to do this. If you are in the email view, click on the messaging icon and click "Start a new conversation". You will see a drop-down list with the people in your Skype contact list that are online. Select the person you want to communicate with and decide if you want to initiate an instant messaging conversation, call or video conference.
You can also open up the "People" view and initiate a Skype conversation with people from there.
A black Skype window will open up where you can control your call.
Getting more people to use Skype
In order for you to use Skype to talk to the people you want to contact, they need to be using Skype as well. They can be using a stand-alone Skype application or the integrated Outlook.com version, but they need to have a Skype account. With the integration of Skype in Outlook.com Microsoft makes Skype available to millions of people. Unfortunately, you can't invite people to start using Skype from within Outlook.com. In order to do that you need to use the stand-alone Skype application. Nevertheless, having Skype integrated into Outlook.com lowers the barrier for communication and it makes Skype available to users more broadly than before.
(If you have difficulties reading this article, you can access the full article in pdf here)