How to save money using Skype
How to save money using Skype
Last week a report from telecom market research firm TeleGeography showed that Skype voice and video traffic over the Internet grew 44 percent to 167 billion minutes in 2012. Last year Skype hosted the same amount of calls as one-third of the world's phone traffic. Skype is being used by over 280 million users and Microsoft is placing high bets on Skype which they acquired in 2011. Starting in April 2013 Microsoft will shut down Windows Live Messenger and move users around the world (except for those in China) over to Skype.
Many of you probably know that you can send instant messages and do voice and video calls
using Skype over the Internet for free. But Skype also provides a number of other telephony services like text messaging and group conference calling that you can get if you purchase Skype credits or sign up for Skype Premium. If you are paying high telephony bills for international calls or conference calls I'm sure you can save a lot of money using Skype instead. In this article, I'll tell you how to get started and I'll give you an overview of the free services and the premium service offered by Skype that will help you save money.
Getting started with Skype
The Skype application is available free of charge and can be downloaded and installed on a number of different devices – computers running different operating systems, tablets, mobiles, TV's, phones and gaming devices.

To start using Skype you need to have a user account. You can sign up for a new Skype account, or you can sign in using a Microsoft account (Hotmail, Outlook.com or Live username) or a FaceBook account. You can find other people using Skype in the Skype directory and add them to your contacts. If you log in with your FaceBook account you will see your friends in your Skype contact list, in addition to the contacts you have added in Skype.
Protecting your privacy
You might not want any of the 240 million users of Skype to call you. To protect your privacy you can choose only to be contacted by people in your contact list. You can also change the settings of how you are notified of various events – for instance, if someone comes online, if someone sends you an instant message or if someone calls you. To change the settings go to Tools – Options and change the settings under "Privacy" and "Notifications".
What you can do for free using Skype
Now that you have installed Skype and signed in you can start using the free services. With Skype you can:
Have instant messaging chats
Have voice calls with one or more Skype users (up to 25)
Have video calls with another Skype user (limited to one other person)
Share your screen with another Skype user (limited to one other person)
Send files
Receive voice messages and record a voice message greeting ( you need to activate this in your account)
Since all of these services are free and only require that you and the person you want to communicate with have an Internet connection you can save a lot of money using Skype instead of regular telephony. Since more and more people have Skype on their mobile phones and Skype works on 3G connections you are not limited to calling users who are sitting in front of their computers, you can reach them on Skype on their mobiles and still not pay anything for the conversation.
What you can do if you pay – an overview of paid services
Even though you can do a lot with the free version of Skype, Microsoft, of course, wants you to pay extra for additional services. There are a number of different offerings available that give you additional functionality. Depending on your phone usage, one of the offerings might be a good option for you to save money.
1. Skype Credits
The most common purchase for Skype is Skype credits (sometimes referred to as Skype Out). With Skype Credits you can:
Call landline or mobile phones across the world – In many cases this will be cheaper than calling from a regular telephone. You can see the rates to different countries here. In most countries, you can connect your Skype account to your mobile phone number with a so-called "Caller ID" so that it looks like the call is coming from your mobile phone number. This way it's easy for someone to call you back.
Send text messages to mobile phones – It's really convenient to send text messages via Skype using your keyboard on your computer, it's probably cheaper than sending it from your mobile phone as well. You can check text messaging rates to different countries here.  Again, in most countries, you can connect your Skype account to your mobile phone so that it looks like the message is coming from your mobile, making it easier for people to respond to your text messages.  To set this up go to Tools – Options and change the "SMS Settings" in the "IM & SMS" tab.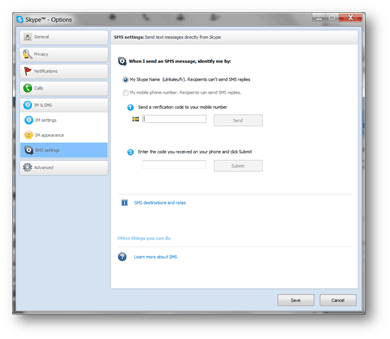 Forward calls to a number of choices – If someone calls you on Skype, but you can't answer on your device where you have Skype installed, you can have the call forwarded to a telephone number of choice. You will need to use your Skype Credits to pay for the forwarded call.
Access the Internet with Skype WiFi hotspots – You can use your Skype Credits to connect to Internet WiFi hotspots around the world. This way you don't have to enter your credit card number or purchase Internet vouchers. There is supposed to be over one million Skype WiFi hotspots around the world (the problem is that there is no official list of these locations published by Microsoft).
2. Skype Premium
You can upgrade your account to Skype Premium to get the additional functionality:
Have group voice calls with up to 25  people (calling in from a landline or mobile phones or Skype)
Have group video calls with up to 10 people
Have group screen sharing with up to 10 people
Make unlimited number of calls to landlines (and mobiles in certain cases) in a country of choice
No advertising
Get live chat customer support
In addition, Skype Premium customers will also soon be able to send an unlimited number of video messages to each other (everyone will get 20 messages for free, to send more you need to have a Premium account). This feature is currently being rolled out for Skype on Android, iOS (iPhones) and Mac and will become available to Windows users at the end of April.
3. Skype Subscription
You can always use Skype Credits to call landline or mobile phones and "pay as you go". But if you frequently call landline or mobile phones in a specific country you can save money by purchasing a Skype subscription. You can select between subscribing to packages of 60/120/400 minutes per month, or you can purchase an unlimited number of minutes for mobiles and landlines.
4. Skype Number
If you want to set up a local phone number and be able to respond via Skype wherever you are in the world you can set up a so-called "Skype Number" (previously known as an Online number). When you register a Skype Number you get to choose among available combinations of numbers with an area code of your choice from several countries. So if you are abroad your friends and family back home can still call a local landline number, and reach you via Skype no matter where in the world you are.
5. Skype To Go
You can even use Skype to save money even when you are calling from one mobile or landline phone to another. If you use the service called "Skype To Go" you can register an international phone number that Skype will convert to a local "Skype To Go" phone number that you can call from any phone. The call will be charged to your Skype Credits. This way you can continue calling from mobile to mobile but save a lot of money.
Innovative ways to save money
I'm a frequent Skype user. I have video calls with friends, family and co-workers around the world. Even though Skype is becoming a "de-facto" standard for communication for a lot of people, I believe money is being left on the table for a lot of people who aren't leveraging the new innovative ways to save money using Skype. Many still see Skype as something they can only use when they are in front of their computer.
Let me give you an example. I live in Dubai and my mother lives in Stockholm. If she wants
to make a normal call to my mobile from her 6 mobile it costs her an arm and a leg – 17 SEK (about 2.60 US dollars) a minute plus a connection fee! To save money, I have set up a "Skype To Go" number so that she can call a local landline number that is partly routed over the Internet and connected to my mobile in Dubai for only 2.151 SEK (0.339 US dollars) a minute plus the connection fee. So in other words, using "Skype To Go" we save more than 87% on those mother-daughter mobile calls and I don't have to feel bad about our lengthy telephone calls…
(If you have difficulties reading this article, you can access the full article in pdf here)