Getting started with Yammer – an End-User Guide
The past few weeks I've been writing about enterprise social networks; the benefits and the solutions provided by Microsoft. Before you get going with an enterprise social network I recommend you define your goals and objectives, that you evaluate different platforms and that you clearly communicate usage guidelines and policies. Last week I shared with you how to get started with social networking in SharePoint 2013/Office 365. On March 19th, the SharePoint team published a blog post by Jared Spataro, Senior Director of the Microsoft Office Division, where he shared more about the Yammer/SharePoint integration moving forward. If asked by customers what to use for social – Yammer or SharePoint, he said his answer was clear, "Go Yammer!" So in this blog post, I thought I would share with you how to get started with Yammer.
1. Sign up
Yammer is a free service that any employee within a company can sign up for. You just go to www.yammer.com and sign up by entering your corporate email address. You will be sent an email back to confirm the address. The entire sign up process just takes a few minutes.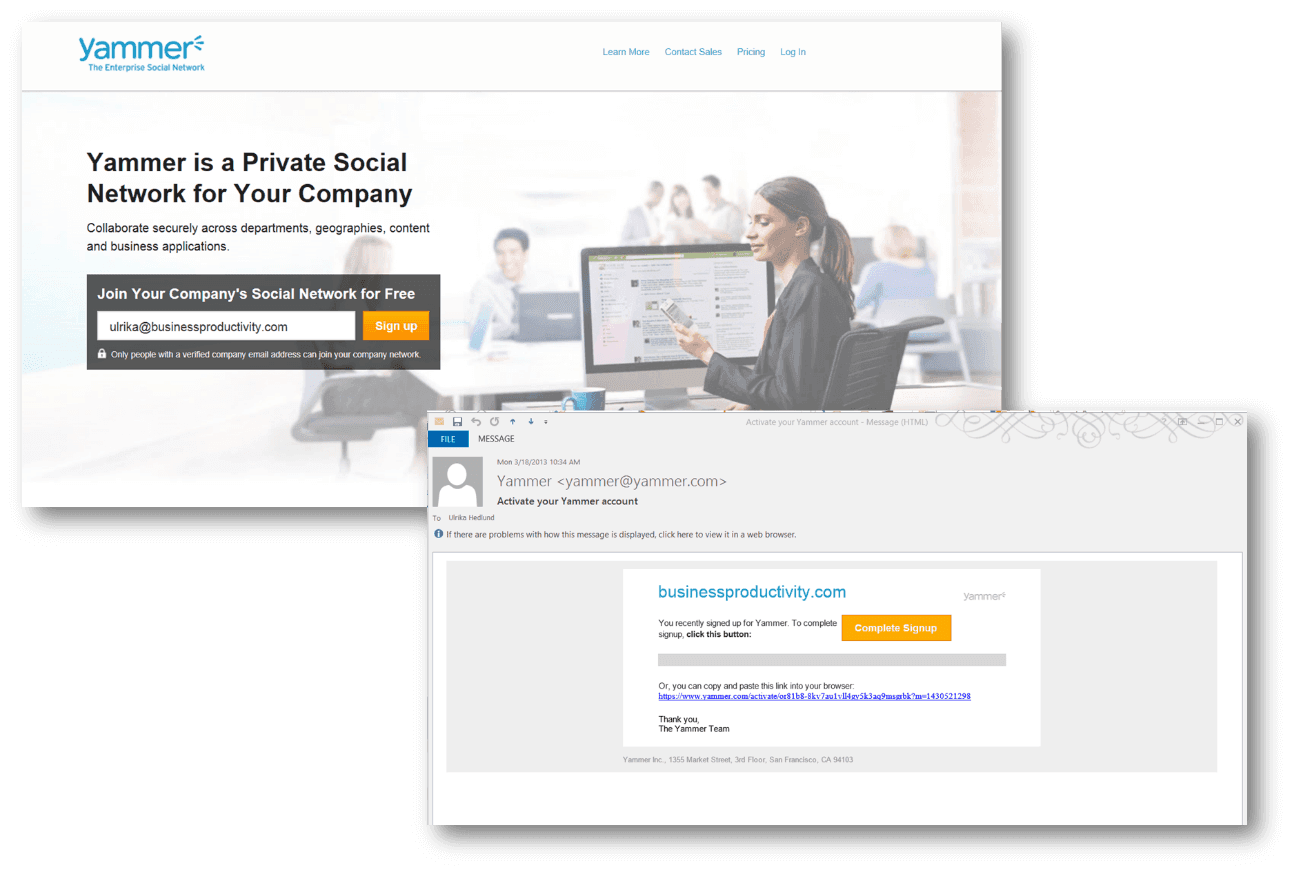 2. Set up your profile
When you have confirmed your email you are taken through a setup guide where you are asked to fill out your name and department, add a profile picture and enter the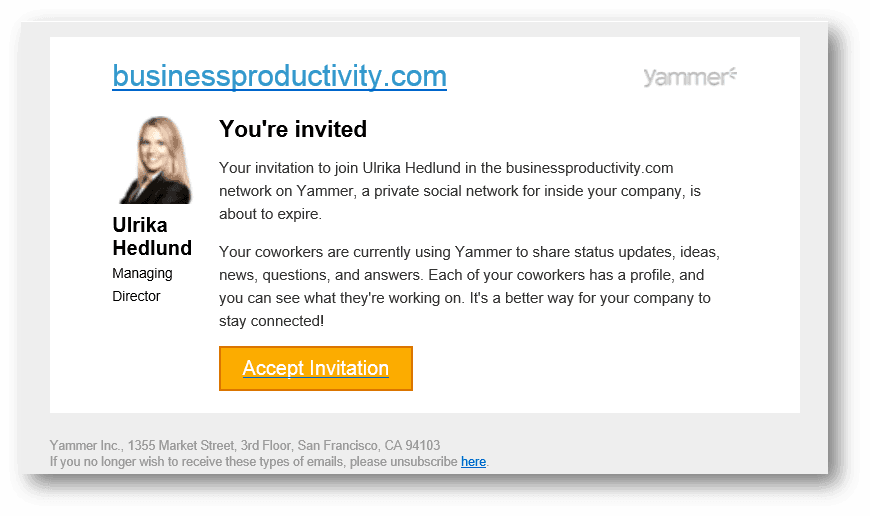 email address of colleagues you work with. These people will be sent an email with an invitation to join Yammer. Make sure to inform your colleagues about Yammer before you enter their email addresses since they might otherwise not know what the email invitation is all about. Yammer will continue to send out email invitations to encourage people to join. You can learn more about the emails Yammer sends out here.
If Yammer is already being used by other people in your company they might have started "Groups" that you might want to join. A Group is an area within your corporate social network, with people who share common interests. An example of a group can be a department, a project team, or a group sharing certain expertise. By default, you will be added to the "All Company" Group which includes all employees from your organization who have joined Yammer. You can also choose to create a Group if you want to start socializing with people on a certain topic. (If you are new to Yammer and you don't have that many users I recommend that you wait a bit before you start too many different Groups. A key success factor to any social network is consistent activity so if you have too many Groups, some of them might not be very active).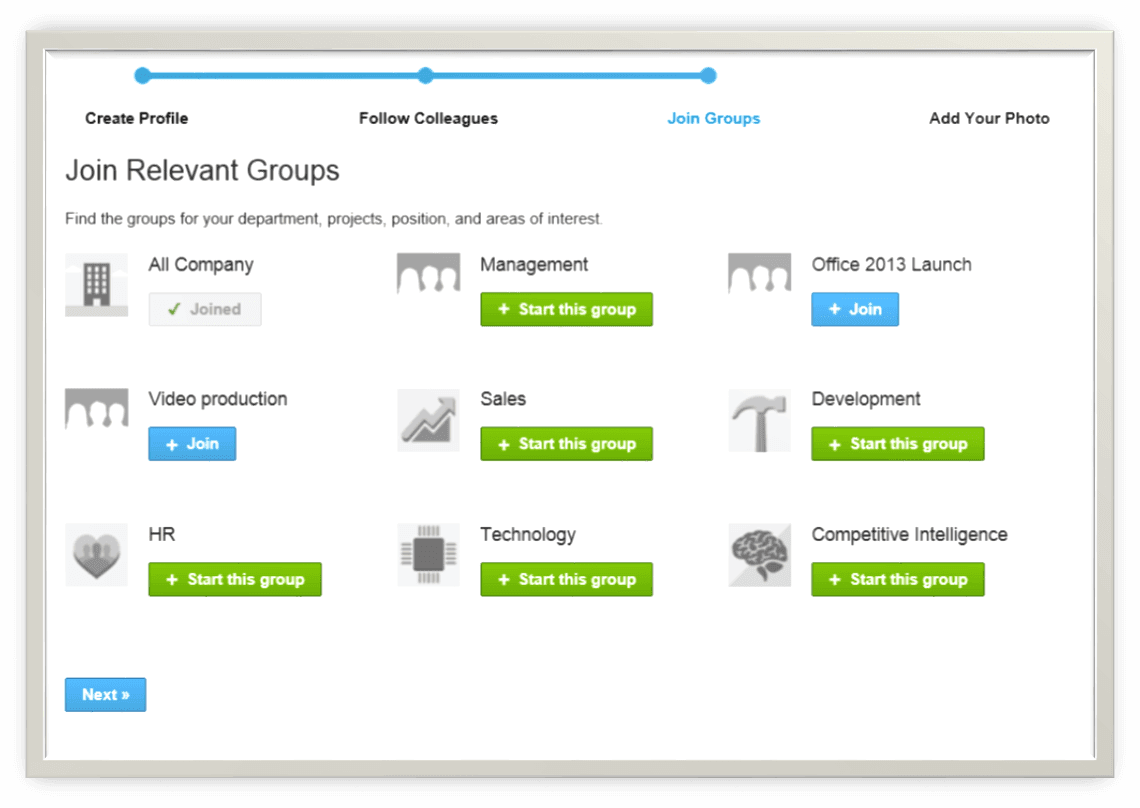 3. Download the desktop and mobile app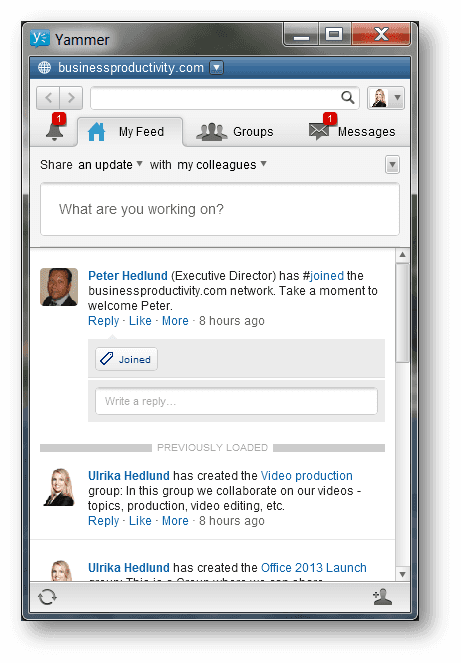 To access your new company social network on Yammer you need to login to www.Yammer.com, once you have an account set up you will be taken directly to your company network. Another, easier way to stay connected to your Yammer network is to download the Yammer desktop and mobile apps. This way you can engage with your enterprise network without having to open up the network page in a browser. Now you can post statuses, send (instant) messages to people who are online, share files and easily check the latest posts directly from your desktop or your mobile. The Yammer desktop app is available for both Windows PCs and Macs and the mobile app is available for a wide range of mobiles including iPhones, Blackberrys, Android devices and Windows mobile devices.
4. Start sharing with colleagues
It's really easy to start using Yammer. In addition to traditional micro-blogging capabilities such as tagging content, posting images and mentioning people, Yammer provides more advanced social capabilities like uploading documents and videos, posting polls, praising people and posting events where you can track who is attending. Compared to the collaboration capabilities you have in a SharePoint team site Yammer is very limited, but the ease of use makes sharing appealing. When you start using Yammer your inbox will be bombarded with email notifications so I recommend that you change the notification settings in your account. I prefer to get a summarized weekly digest of all the activities that I can just skim through to make sure I haven't missed anything.
5. Start sharing with external business partners
One of the key benefits of Yammer is that it's really easy to start collaborating with people outside your organization, you might be working with an external PC agency that you need to share information with, or perhaps you are working with a business partner on a project. In Yammer you can create a number of different "external networks". Each network is a separate "area" where you can socialize and share files/news and updates with members. When you create a new external network you need to select a unique name for the network (this will be separate from your organization's network).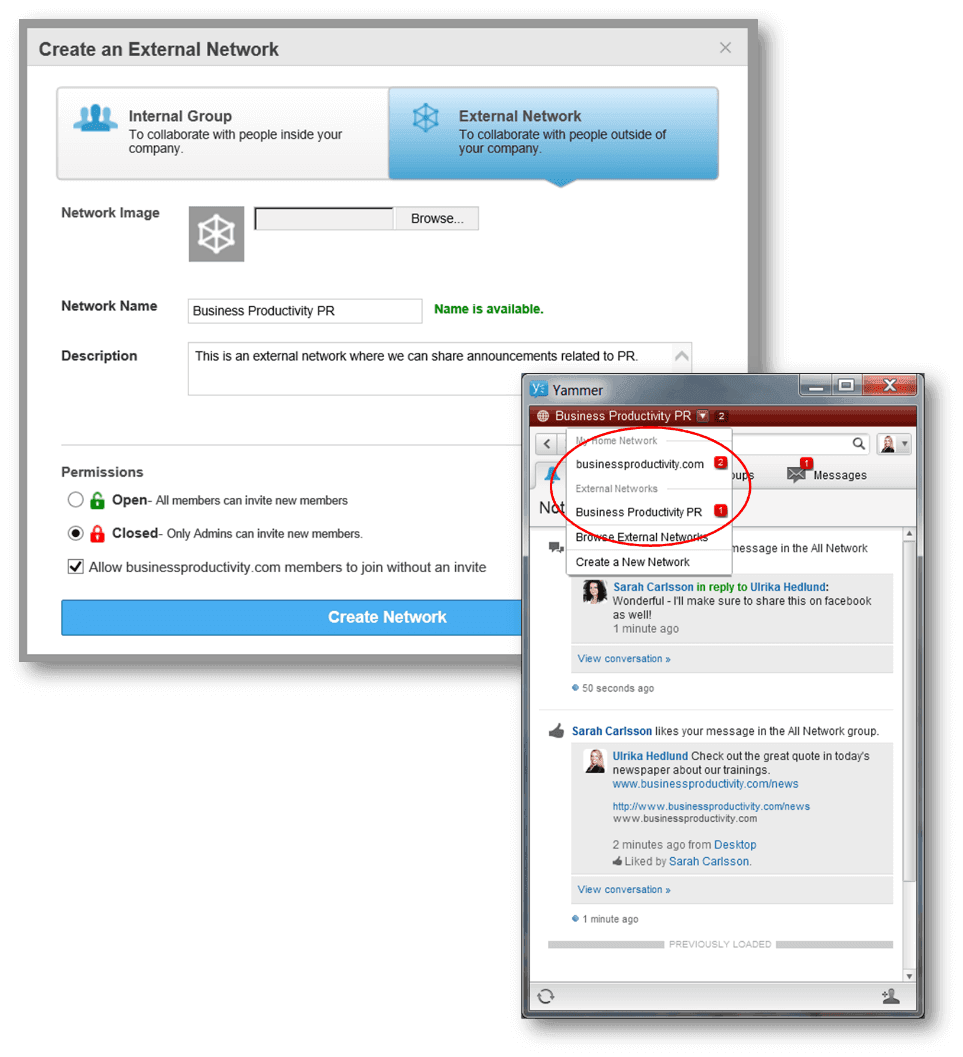 When the name has been approved you can then decide whether the network should be "Open" or "Closed". If the network is open any member can invite new members to join, if it is closed only administrators have that ability. Yammer color codes external networks red to clearly show that the network is accessible by people outside the organization. You can switch between the different networks by just selecting the network in the drop down in the Yammer desktop app.
6. Evaluate the Yammer apps
In addition to the applications developed by Yammer, there is a full partner marketplace with apps that plug into Yammer. Here you can find applications for mind-mapping (MindJet), online training (MindFlash), customer relationship management (Salesforce.com) and much more. Some of these you might already be using in your organization and the integration with Yammer is an added value. Others might be totally new, but they might be able to fill a need that you have internally.
Looking forward to better integration
Microsoft's productivity story has always been "better together," but with recent acquisitions of Yammer and Skype, there are multiple applications in Microsoft's product portfolio that overlap, compete and don't work very well together. With that said, acquiring software and integrating it into the product family isn't something new to Microsoft, they have been doing this from the very start. How many people are today aware that PowerPoint wasn't originally developed by Microsoft? I've been a heavy user of SharePoint for many years, and from a collaboration perspective SharePoint is so much richer than Yammer, but from a social perspective Yammer is a clear winner. It's easier to get started, it's richer in functionality and more intuitive. Since social and collaboration go hand in hand it's crucial that Microsoft quickly integrates these two platforms – and not just on the surface with web parts and Single Sign-On, but from the ground up. When they do, Microsoft will have a fantastic solution for social collaboration.
(If you have difficulties reading this article, you can access the full article in pdf here)