My Wish List to Santa Part 1: Gadgets I Want for Christmas
I know that people have very mixed feelings about Christmas, personally, I love it! When I was a child I used to handwrite a very pretty wish list to Santa Clause that my mother would put on the refrigerator door. Today wish lists are more sophisticated, they are either emailed out to the entire family, posted on Facebook or various other wish lists sites like "WishList", or "Wishlistr". Writing a wish list is so much fun because when you are writing it, there is still hope that you will actually get some of the things you are wishing for! That is why I've decided to make the next two blog posts into wish lists – one for technology gadgets and one for business books I want to read or listen to.
A new mobile phone
A few years ago you were a bit different and cool if you had something from Apple. Today iPhones are mainstream so you don't get a lot of attention for having one. I'm very curious about the new Nokia Lumia 800. This is a result of the collaboration between Nokia and Microsoft – a Nokia phone running Windows. I've had numerous Nokia phones and I've always liked them.I've also had numerous Windows phones and even though I like the consistency of having Windows on my phone and my computer, the phones haven't been exceptional. So I'm very excited to see if the new Lumia meets my expectations.
Elegant speakers for our apartment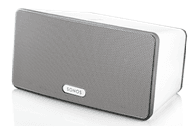 It really intrigues and bothers me that the majority of tech gadgets are so ugly! "No, Mr. Sales Guy, I will not put that ugly, black, metal thing in my living room!"  There is actually a term called Wife Acceptance Factor (WAF), which is used when talking about expensive electronics. Many times these gadgets are developed for male consumer, but the more appealing the design elements are to the wife the bigger is the likelihood that the purchase is actually made. A company that has really mastered the combination of sleek design and cool technology (other than Apple) is Sonos. I want their new PLAY:3 speakers so that I can enjoy listening to music, podcasts and radio from anywhere in our apartment. You connect the speaker (or a bridge) to the internet and then you can add as many speakers as you want in your home and everything works wirelessly. You master the system from your laptop or your phone at your convenience. Since they come in white and have a nice design I won't have to worry about tucking them away somewhere, I can put them right up on the bookshelf for everyone to see!
Unlimited access to music – from anywhere
What better gift to go with the speakers mentioned above than a one-year Premium subscription to Spotify? Spotify is integrated with the Sonos speakers which means you can play (almost any!) song wireless in your home. You can now buy a Premium subscription e-card to their online music service. The Premium subscription gives you unlimited access to music without advertising, you can access your account with all of your playlists from your mobile or computer online or offline, wherever you are.
Access to my choice of audiobooks for a year
I always have a long list of books I want to read, but as always the moments when I can actually sit down and read a book are very limited – that's why I love audiobooks! I can listen while I go for power walks in the morning or when I'm driving. On Audible.com you can buy a gift membership for a selected number of months. In the next blog post, I will share some of the titles I have on my wish list.
A new watch for calmer mornings
The final thing on my wish list is the Mutewatch – so simple, yet so brilliant! This watch has a built-in vibrator so that you can set a silent alarm. Just picture it – you have the watch on your wrist and you wake up in the morning by feeling a gentle vibration on your wrist. The alarm doesn't wake up your spouse or children! You can have a bit of calm and quiet to yourself before the rest of the house wakes up.
Don't forget what it's all about
Even though it's a lot of fun to write wish lists and hope for nice gifts under the Christmas tree, it's important that we don't lose sight of what Christmas is really about. The priest in my church said in her advent sermon that peace in the world is no longer at the top of people's wish list – the iPad is! I believe it's crucial that we all take our responsibility and teach our children about the values of Christmas. I really hope you embrace this upcoming holiday with joy and that you show gratitude for what you are given – iPad or not.
(If you have difficulties reading this article, you can access the full article in pdf here)