Future plans for Business Productivity
This week I'm back in my home country Sweden celebrating Easter with my family and renovating our new summer house. It's quite a contrast to come home to zero degrees Celsius compared to the thirty-five degrees currently in Dubai. It's also quite a contrast to spend my days tearing down walls and throwing out carpets instead of typing away on a computer. It's a nice change!  I thought I would take the opportunity in this week's blog post to share with you some of the exciting things we have planned for the next few weeks and some important changes you should be aware of.
Upgrade of the website
We are currently working on an upgrade of our website. When we launched our website in October 2011 we didn't have a large number of videos and articles, and we didn't know much about how our viewers would engage with our site. Since the launch, we have published a new video tutorial and a new blog article every week, so our content has grown substantially. We can also see in which ways our viewers interact with our site, so it's now easier for us to tweak it to optimize usability.
Easier navigation
One of the major changes we are making to the site is the navigation. We want you to have a consistent user experience no matter where you are on the site and we want you to easily find what you are looking for – whether you are a frequent viewer and you know exactly what you are looking for, or a new user who is visiting the site for the first time. When we launched our website we didn't have a huge video library so it was easy to browse through the videos. Now we are designing a new video library navigation to facilitate browsing of the large number of videos we offer.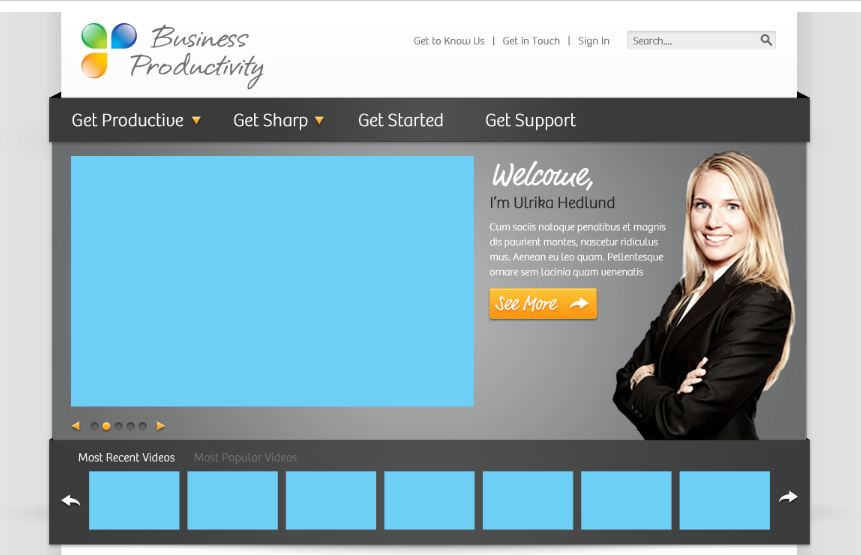 You will be able to browse videos per topic, such as "Get Productive:  Managing your email", or "Get Productive: By analyzing data", or by a product such as "Get Productive: Using Outlook", or "Get Productive: Using Excel".
Related content
We also want to help you find information related to something you are interested in. As you know Business Productivity produces tutorial videos as well as informative blog posts with useful tips on how to become more efficient in the workplace. With the new site, we will make it easier for you to find tutorial videos that relate to a specific blog post as well as blog posts that relate to a specific video. So if you are interested in learning about meeting management, you will easily find all the blog posts related to managing meetings, as well as video tutorials related to scheduling meetings.
Consistent experience across devices
Today people are used to accessing rich content on their mobile phones or tablets. We want to make sure you have a smooth experience viewing our site across a desktop, tablet and mobile device. Being able to cater for small displays forces us to make some tradeoffs when it comes to visual effects, but I believe we have found a good balance. The new site will feel fresh and modern, but at the same time, it will be functional on a mobile device.  This way you'll be able to increase your business productivity by easily watching our videos on your favorite device!
Video content for subscribing members
We have received overwhelmingly positive feedback on our content from our viewers. This is such an amazing encouragement for us! As all Internet content providers, we have two choices when it comes to making a living on our content – advertising or subscriptions. The feedback we have received from our viewers have led us to the conclusion that the best model for us is to offer subscriptions to our site with no advertising. This way we can stay true to our core value which is to respect your valuable time and make sure you increase your business productivity without distractions.  We will offer subscriptions on a monthly basis as well as on a yearly basis at a discounted rate. We will also provide pricing packages for organizations that want to sign up a larger number of employees.
Tell us what you think
As always, the most important aspect of any change we make is to please you, our viewer, with our offerings. We have a lot of plans for future improvements and added functionality, but as always we need to prioritize. We love to get your comments on our site and on our facebook page www.facebook.com/businessproductivity.  I am really excited about the improvements we are making, please email me directly if you have any ideas, suggestions or remarks: ulrikahedlund@businessproductivity.com. I look forward to hearing from you. Stay tuned for the new, refreshed Business Productivity website!
(If you have difficulties reading this article, you can access the full article in pdf here)