First impressions of Windows 8 – my verdict!
Last week I wrote a summary of the things you can expect in Microsoft's new operating system, Windows 8, that is due to come out later this year. In my early days as a systems engineer, I couldn't wait to try new technology and I gladly installed unfinished code (so-called alphas and betas) on my computer. These days I'm much more reluctant to do anything to my PC that will negatively impact my productivity. Luckily these days you can use virtualization to try new things in a protected environment that does not interfere with your day-to-day applications. So even though it took me a couple of months to get started, I have now installed the Windows 8 Consumer Preview. For those of you, who like me, are interested in trying Windows 8 but unwilling to upgrade your current operating system, you should read the article in PC Magazine called "How to Download and Install Windows 8 Into a Virtual Machine". In this week's blog, I want to write about my first impressions of the Windows 8 Consumer Preview. I've given ratings to selected topics to clearly point out what I think is good and not so good.
Start screen (4/5)
Installing Windows 8 is really straight-forward. After the installation files are unpacked and installed and you've entered your regional settings, you are asked to select a preferred choice of color and after you've entered your Windows Live Account details you are presented with the Start Screen. The start screen is a colorful, "tiles-based" navigation of everything you have on your computer.
I love the Start Screen – it really is a much better starting point than a messy desktop that's cluttered with shortcuts and files. Right away you get a good overview of current status of your mail, calendar, weather, etc. You can easily move tiles around and group them, and name the groups as you please.
The reason I didn't give it 5 out of 5 stars is that even though you can search for anything by just starting to type, or opening up the "charms" bar on the right, I would have preferred to have a search box right on the start screen to make it really evident that you can easily search for things. Also, I didn't like the background colors you could choose from – let's hope they provide more options in the final version.
User consistency (2/5)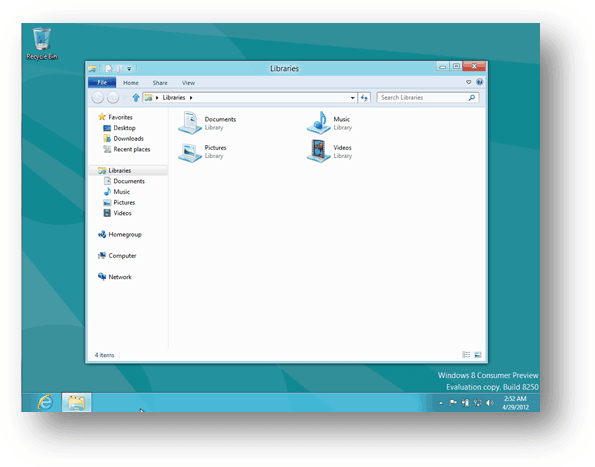 I didn't try Windows 8 on a tablet device; I would expect that navigating Windows 8 with a touchscreen is a much nicer experience. Even though you get used to navigating the Start Screen quite quickly even with a traditional keyboard and mouse, I felt there was a "disconnect" between the new fresh Windows 8 look and the "old" traditional Windows experience. All of a sudden you were back in the traditional "desktop" view – except that the Start button was missing. Gone was my grey themed background, and back was the typical desktop and familiar red "X" for closing applications (this is gone in the Windows 8 Metro applications. You don't close Metro applications, they just disappear after a while to give room to newer applications). I'm sure there is a good explanation for still having this desktop view – backward compatibility, user acceptance, and so on, but I felt there was a "disconnect "in the user experience.
Metro applications (5/5)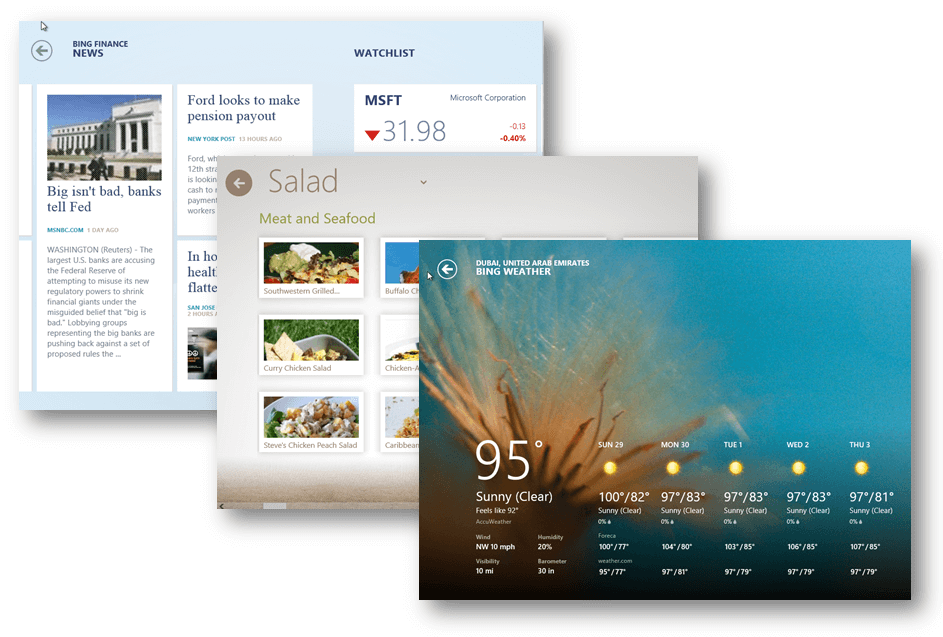 The Windows 8 "Metro style" applications get a five out of five rating. I simply love these new applications. They have big pictures and big fonts which make them easy to read, you are curious to swipe to the right to see what more the application has to offer and they encourage engagement. I know it will take some time before all application developers get up to speed on this new type of programming, but I hope they catch up soon because this is really nice.
The Windows Store (3/5)
Since I love the "Metro-style" applications, having a store where you can find and download new apps is great. The store itself is built in the same "Metro"- manner with large tiles, images and text, so the store itself is attractive. Applications in the store are grouped into different categories so that you can browse through applications you like. Something I am missing though is more advanced search options with more fields to search on. I did a search for
"note taking" and I got 20 results – only a one or two were actually related to note-taking.
Since you are always curious to see what others think of an application it's interesting to go in and read the user reviews. Here you can see their star rating and a short description of what they think about the app. Here it would be really nice to see what your friends think, so a Facebook integration is added to my wish list.
New devices (5/5)
Even though there is still not a lot of official information regarding the upcoming tablets being released with Windows 8, there are a lot of rumors. I recently read that HP might be coming out with a Tablet called "Slate 8". I was ecstatic to see that the specifications said "Multi-touch or digital pen input".  For years I've been using a Tablet PC with a digital pen and I love the ability of being able to take notes on my computer. With the outlook of new devices coming out in the market it sounds like I'll be able to have a Multi-touch, thin, tablet device with long battery life for both personal and business use on which I will be able to take notes. Even though they are just rumors at this stage I give the new devices coming out with Windows 8 five stars!
My verdict (3.8/5)
Doing a quick calculation of the ratings I've given above, the average equals 3.8 out of 5 overall. I think this represents my first impression of Windows 8 rather well. There are a number of things that really excite me, other things that I will cautiously wait to evaluate again in the final release. I believe Windows 8 will be a great push for hardware manufacturers since consumers will be very eager to upgrade to new devices that enable touchscreen interaction. Windows 8 can also introduce a leveling field for application developers since users will be looking for new updated Metro-styled applications. I hope that existing large software developers are quick to adopt the new programming style and I'm very curious to see what the impact of this new style has on traditional productivity software. I'm definitely looking forward to the beta version of Microsoft Office 15!
If you have difficulties reading this article, you can access the full article in pdf here)