Exciting new enhancements of Surface Pro 2
About a year ago, on October 25th, 2012, Microsoft launched a new range of tablet devices called Surface. If you've missed what this device is all about you can read my blog post, "What is Microsoft Surface? A tablet I want for business ". Since then, the two devices Surface RT and Surface Pro have received a lot of mixed reviews. On October 22nd, the next generation of Surface, called the Surface 2 series, will be available to customers (in 22 markets). In this blog article, I'll tell you about the exciting updates for the Surface Pro 2 (the more expensive edition on which you can run your traditional Windows applications).
1. Better performance
Many people complained about the short battery life of the initial Surface Pro. Depending on how heavily you used the device, tests show the battery lasted between 3-5 hours. For someone who wants to put in a full day's work without recharging, this doesn't cut it. The new Surface Pro 2 tablets are using a new chipset technology from Intel called Haswell. According to Intel, "Haswell represents the biggest single generational gain in power efficiency in the history of [Intel's] x86 PC processors. " With this new, more power efficient processor, the Surface Pro 2 will have a 75 percent longer battery life (which would imply an increase to roughly 5.5-9 hours).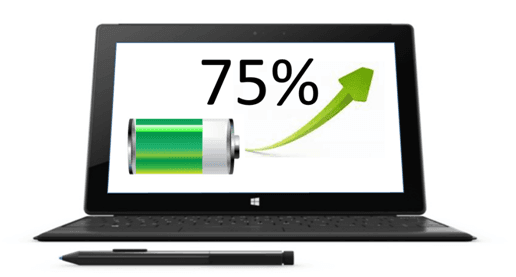 In addition to longer battery life, the overall performance of the Surface Pro 2 will increase by 20 percent and the graphical performance by 50 percent.  The front and back cameras have also been greatly improved. In addition to the higher resolution (3.5 and 5 megapixel respectively), the cameras leverage a technology that effectively captures light. This means that you will be clearly visible using the webcam, even though you are in a low-lit room.
2. Newer version of Windows 8
The first generation of Surface Pro came with Windows 8 pre-installed. Windows 8, which has been designed for touch-screen devices introduces an entirely new user experience. As with all new software that introduces drastic change, Windows 8 got a lot of mixed customer feedback. Surface Pro 2 comes with the updated version of Windows 8 called Windows 8.1. Main improvements include more options to personalize your device, richer search experience, improved Windows Apps and easier navigation. (To learn more about Windows 8.1 for PC users read my blog post called, Windows 8.1 – Top enhancements for traditional PC users).
3. Improved stand for using the Surface in your lap
With the Surface, Microsoft introduced a new, innovative built-in stand called the "Kickstand." Using the Kickstand you could easily place your Surface on a table in front of you, attach a keyboard and use it as a traditional laptop. Many users though complained that the Kickstand wasn't good if you wanted to use the Surface in your lap. With Surface 2, Microsoft has updated the Kickstand so that it now supports two angles – one optimized for using the Surface on a table and one larger degree angle for using the Surface on your lap.
4. Enhanced keyboard offerings
Even though not included in the purchase of a Surface device, the two separately available keyboards that were released with the first generation Surface devices, Touch Cover and Type Cover, have received great feedback. The keyboards act as a combined keyboard and cover for the Surface device and they have now been updated and improved.
The Touch Cover 2 is thinner (only 2.75 mm) and lighter than the original Touch Cover. The keys have built-in backlight which makes typing in dim light much easier, and the keys are more sensitive, making the overall typing experience better.
The Type Cover 2, has the same design as its predecessor, though it's more rigid and the keys are quieter. Just like the Touch Cover 2, the Type Cover 2 comes with built-in backlight for better readability in the dark.
In addition to these two keyboards, Microsoft introduced a new keyboard called the "Power Cover". The Power Cover is a Type Cover 2 with a built-in battery to extend the battery life of your Surface device with about 50 percent.
5. A docking station enabling full workstation capacity
If you want to use your Surface Pro as a full-featured workstation you probably want to connect it to other accessories you might have on your desk – such as a mouse, a headset, a larger screen and so on. This becomes really easy with the new Surface Pro Docking Station. You can have all your accessories connected to the Docking Station along with a power supply and Ethernet network cable (if the wireless isn't good enough), just plug your Surface Pro into the Docking Station and you are all set with everything up and running. The Docking Station comes with a Mini DisplayPort video output, three USB 2.0 ports and one USB 3.0 port, an Ethernet port, and 3.5mm audio in and out.
Is now the right time to buy?
Launching a new generation of Surface devices with all these improvements in less than a year is quite impressive. It does, however, make me wonder what will be introduced in the next generation of Surface devices if I just sit tight and wait until next year? This is always the case with technology, the minute you buy something, there is already something newer, faster and better available in the market. Whether or not it's right to buy all depends on your work situation – if you need to be mobile, you need quick access to information, you need to be able to take handwritten notes, you need to access your work applications on the go, then paying $1,229 for a Surface Pro 2 (with the Type Cover 2 keyboard for $129.99 and the Docking Station for $199.99) will give you a lot of value for your money and it will increase your business productivity for sure!
(If you have difficulties reading this article, you can access the full article in pdf here)