Enterprise Social Networks by Microsoft
There is no doubt that social networking sites like Facebook, Twitter and LinkedIn have become vastly popular for keeping up to date on friends' activities. But social networks are not only for personal use, more and more companies are seeing the benefits of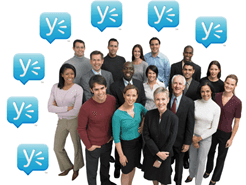 enterprise social networking, that is, social networking between employees and business partners related to business activities. Enterprise social networking software is a really hot market, Forrester predicts that it will be worth 6.4 billion dollars in 2016. In June 2012, Microsoft announced the acquisition of Yammer, the leading provider of enterprise social networks. In this blog, I'll give you an overview of enterprise social networking and the solutions provided by Microsoft.
What is Enterprise Social Networking?
Enterprise Social Networking, sometimes abbreviated ESN, is the use of social networks, often using specialized software, among people who share business activities. Where social networks such as facebook focus on personal activities such as trips, food and social gatherings, the focus of enterprise social networking is on business topics such as projects, solutions to problems and new ideas.
Enterprise social networking software commonly provides functionality similar to that of facebook and twitter, but unlike these personal social networks where people freely add friends from anywhere in the world, the enterprise social networks limit users to connect and share information with employees within the organization (or business partners).
The benefits of Enterprise Social Networking
One of the major benefits of enterprise social networking is improved knowledge sharing. Imagine that you are new to a company. You have been hired to manage large customer events. Naturally, the first thing you would want to know is how past customer events have been carried out –what locations they've been held at, who was involved in the event, what the customer feedback was, etc. If you are lucky, the organization has documented this information and posted it on the intranet so that you can quickly get up to speed. In many organizations, unfortunately, this information is tied up in the email archive of the person who previously had your job, and there is no way for you to access it. If the company is using an enterprise social network, the discussions, documents, people and other related information will be accessible and discoverable by searching the enterprise social network.
In addition to having a historic archive of past activities, enterprise social networking also helps increase transparency within an organization and it encourages participation at all levels. Let me give you another example. Imagine that you are the CEO of a company. You would like to get some feedback on your 3-year company strategy that you have been working on before you present it to the board. Using social enterprise networking you can post a draft of the document on your social network and ask employees for their feedback. Employees can easily provide feedback by posting comments, "liking" your post or attaching documents of their own to the discussion.
Since social networking encourages people to share information about themselves, such as a profile picture, skills, interests and so on, it is easier for employees to connect with each other and to find people within the organization with the expertise they are looking for.
The threats of Enterprise Social networking
There is, of course, a threat of having information flow more freely within an organization. Some organizations are concerned that confidential information, such as sensitive HR documents, will be spread amongst employees. There is also the threat of data leaks, confidential information about product roadmaps or business strategy, being leaked to the competition. It is absolutely necessary that you have a strategy in place and that your IT department is involved in your enterprise social networking platform so that they can make sure to put proper policies in place (like removing access for employees who have left the company).
Some organizations are concerned about the negative impact enterprise social networking can have on productivity. They are afraid that the "buzz" created by irrelevant updates will distract employees and make them less productive. Even though these concerns are valid, research from McKinsey Global Institute suggests that social networking could potentially increase productivity by 20-25% for those workers who have frequent interpersonal interactions such as managers, salespeople and other professionals.
Social networking in Microsoft SharePoint
Microsoft offers social networking in their collaboration software platform called SharePoint. The social networking capabilities have been greatly enhanced in the latest version, SharePoint 2013. In this version (also available as a cloud offering in Office 365) there is a new "Newsfeed" page on the corporate SharePoint site, where users can see activities from other people, updates that have been made to sites or documents.
So-called "Microblogging" has been introduced so that users can participate in conversations by posting comments and replies, post pictures and links, use hashtags (#) to add keywords, mention people using the @ symbol in their posts, and express agreement by clicking "Like". There is a new mobile SharePoint Newsfeed app available for Windows Phone and iPhones so that you can keep up to date on all the activities when you are on the go. (More detailed information on the capabilities to come in a future blog post).
Social Networking using Yammer
Microsoft now also provides enterprise social networking through Yammer. Yammer is an enterprise social networking cloud service, now owned by Microsoft, with a basic version available for free. Users sign up on the Internet, using their corporate email address, create a profile and can get started within just a few minutes.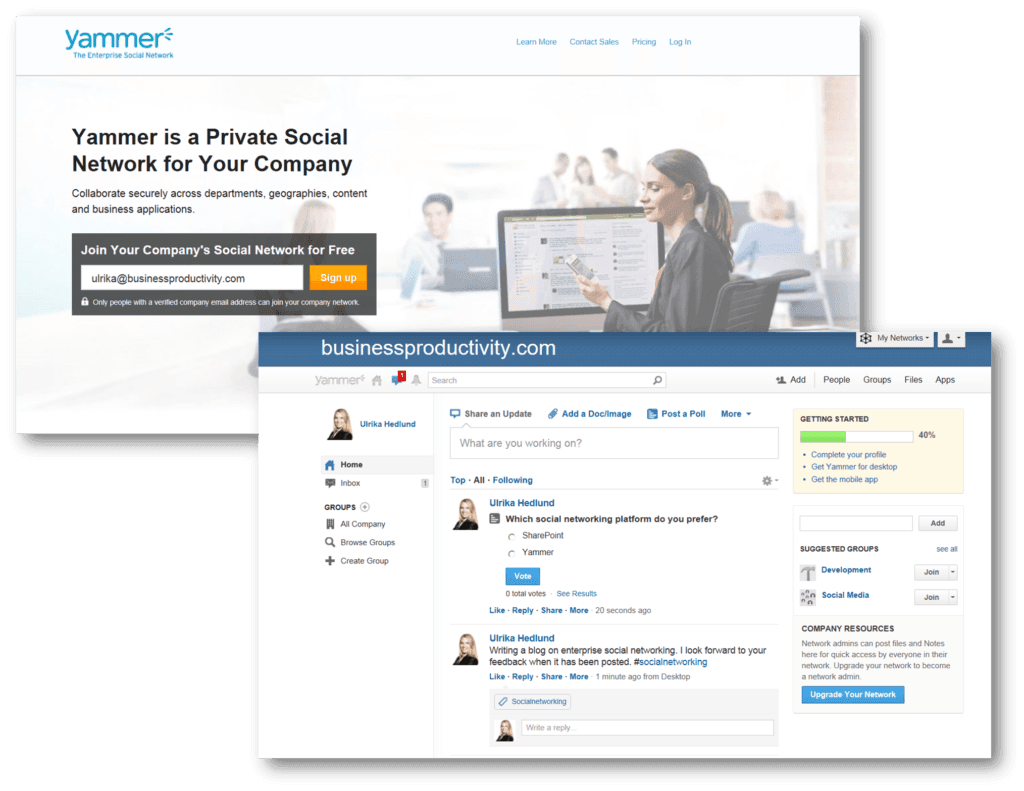 Yammer has gained a lot of traction, it's used in more than 150 countries and at 85% of the Fortune 500 companies. Instead of accessing the newsfeeds through the corporate Intranet, (like in SharePoint) users go to www.yammer.com/companydomain to access the enterprise social network. Yammer provides a rich set of social networking capabilities. In addition to the microblogging functionality found in SharePoint, you can also add polls, give praise, add attachments (pictures, files and videos), make an announcement or an event, etc. Yammer also provides instant messaging, the ability to create groups and collaborative pages where people can co-author content. Yammer is available for Windows Mobile, Blackberry, iPhone and Android. (More detailed information on the capabilities to come in a future blog post).
Companies who want administrative tools to manage Yammer can purchase the Enterprise version which costs $3/user/year. Starting March 1st, 2013, Microsoft is making Yammer Enterprise available to Enterprise Agreement customers who have an Office 365 E plan.
SharePoint or Yammer or both?
Currently, there are a number of Microsoft customers who are a bit confused regarding the enterprise social networking offerings from Microsoft – should they use SharePoint or Yammer of both? The message from Microsoft is that these two solutions complement each other. This might be true, but they are still two different solutions with a number of overlaps. Microsoft has shared that they are working on a three-step integration strategy, starting with basic integration (which includes adding identity and single sign-on capabilities), deeper connections medium term (file attachments and file preview with Office Web apps) and fully connected long-term (with Exchange, Lync and so on), but no details have been revealed. [Update: An article by the SharePoint Team was published March 19th with more details about the integration]
As always with technology, I recommend that you look at the business needs first. In what way would your organization benefit from using enterprise social networking? What functionality would business users require? Based on that, you can decide whether you want to go with SharePoint or Yammer, or both. Just make sure that you have a clear strategy and good guidance in place so that users don't get confused.
(If you have difficulties reading this article, you can access the full article in pdf here)