Communicate with the outside world using Lync 2013
Update 1 (2015): Microsoft announced that Skype for Business will replace Lync.
Update 2 (2017): Microsoft announced that Microsoft Teams would replace Skype for Business eventually.
For many years organizations have been using Microsoft Lync (formerly known as Microsoft Office Communications Server) to enable employees to send instant messages, talk and have video conferences with each other over the Internet. For communicating within an organization this has always been straightforward – but in day to day business you need to be able to easily communicate with people outside your organization as well.  In this week's blog article I wanted to share with you ways in which you can communicate with the outside world using Lync 2013.
Communicate with Skype users
No matter what version of Lync 2013 your organization is using (Lync Server 2013 on-premise or Lync Online in the cloud, Small Business, Midsize or Enterprise), employees who are using Lync 2013 can communicate with external individuals who are using Skype, directly through Lync (if the administrator in your organization allows it). The benefit of this is, that instead of having to switch to Skype every time you want to chat or call someone who isn't within your organization, you can just continue to use Lync like you normally do.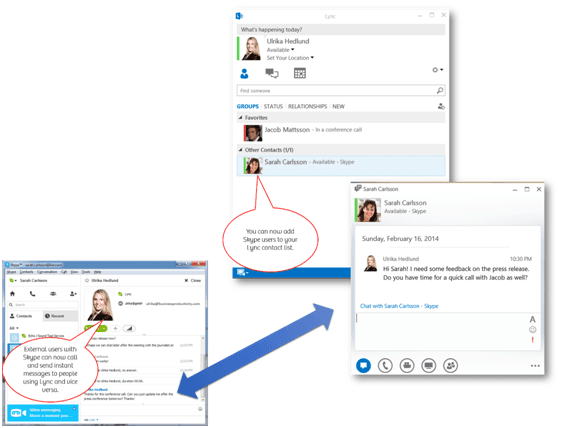 There are some prerequisites that need to be met in order for this to work:
Your Lync administrator has to have enabled external communication in Lync
The Skype contact you want to connect with using Lync needs to have a Microsoft account associated with their account. Even though it's free to create a Microsoft account and associate with your existing Skype name, not all of your Skype contacts will have done this (and they might not see the added benefit of doing so either).
The Skype contact you want to connect with using Lync needs to have the latest version of the Skype Client installed on their PC or Mac.
To add an external Skype contact to your Lync contacts, click Add a Contact->Add a Contact Not in My Organization -> Skype. Add the Microsoft account email address to the person you want to add.
Once the person you've added has accepted to be a contact you can start communicating with each other, you using Lync and he or she using Skype. This is really convenient –  there are however some limitations in terms of usage you should be aware of.
Lync-Skype communication only works one-to-one. This means that you can't invite additional Lync/Skype users to instant messaging conversations or audio conversations.
Lync-Skype communication doesn't support video conversations or Desktop or Application Sharing.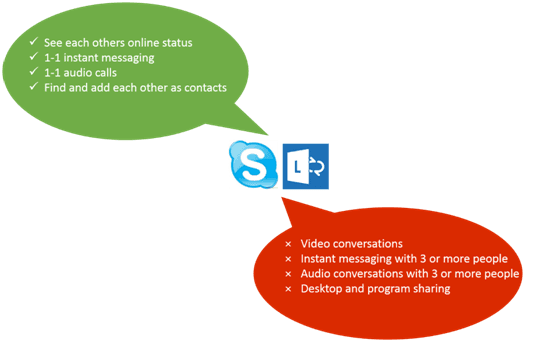 Connect with other businesses that are using Lync
If you want to be able to seamlessly communicate with employees in other organizations that are also using Lync, you can set up a trust (so-called federation), between your organizations so that your employees can communicate with each other using Lync (note that this is not supported in the Lync version which comes with Office 365 Small Business and Small Business Premium). Administrators in both organizations need to add the other one as a trusted domain. For guidance on how to do that see this article.
When the federation has been set up, employees across these two organizations can freely send instant messages, initiate audio and video conferences with each other using Lync. Users belonging to one organization will not, however, be able to search and add people from the company directory of the other organization. In order to add a contact, you need to know their email address. To add a Lync contact, just click, Add a Contact->Add a Contact Not in My Organization -> Lync, and enter the email address of the person you want to communicate with.
Invite external people to attend an online meeting
Quite often you want to invite multiple people to an online meeting – this might be colleagues within your organization or partners or customer working for other companies.  If your organization is using Lync, you can easily invite external people to an online meeting. The attendees you invite don't need a license for Lync – or a Lync client installed on their computer. When they open up the meeting invitation they just click on the link to join the meeting and Lync Web App opens up.

Using the Lync Web App participants can join meetings with a very rich meeting experience. Using the Lync Web App you can send instant messages to each other, hear and see each other (if attendees turn on their cameras) and see shared documents and applications.

Since audio and video is integrated into the Lync experience you don't have to worry about calling a separate phone number to hear what people are saying. With that said, organizations that want to enable people on regular phones to dial into a meeting can add a bridge conference telephone number to their Lync infrastructure.
Lync is tightly integrated into all Office applications which makes it a natural interaction point – whatever you are currently working on. Whether you schedule a meeting using Outlook, or just initiate an ad-hoc meeting using the Lync client, meeting people online with Lync is done with just a click of a button. With the rich capabilities of the Lync Web App, online meetings with external attendees are just as rich as your internal meetings.
The future remains uncertain
There have been a lot of speculations regarding Microsoft's future strategy for real-time communication since their acquisition of Skype. For now, Microsoft is working hard to make the two solutions work better together. Today you can do one-to-one instant messaging and voice calls, the next natural step would be to enable support for video and multi-party conferencing. Long term I believe these to solutions will be combined into one, but for now, the future remains uncertain and we have to accept having two separate clients.
(If you have difficulties reading this article, you can access the full article in pdf here)