My Wish List to Santa Part 2: Books I Want for Christmas
Last week I wrote the first part of my wishlist to Santa which focused on cool technology gadgets I want for Christmas. In this second part, I want to share the top 5 titles of my book wish list that I plan to read – or listen to next year. What better way to start 2012 than with a number of good books on your nightstand or as audiobooks in your mobile?
Great by Choice
Great by Choice is a new book by Jim Collins (the author of Good to Great) and Morten T. Hansen. I heard about it in a Manager Tools podcast where Jim was invited as a guest speaker. One of the most important and overwhelming findings in this book is that companies that do well aren't the ones that take the big leaps or high jumps, but instead those who have a constant clear performance standard that they hold in good times and in bad. Jim shared an analogy that really resonated with me – "The 20-mile march". Imagine that you go on a long walk from California to Maine. One team sets out to do these "big days" where if the weather is nice they walk 40-50 miles. If the conditions are bad they stay in their tent until the weather
improves. The 20-mile marchers say,"if it's really good weather we're going to hold back and only do 20 miles and if it's really bad weather we'll still do our 20 miles. We do it like clockwork – 20 miles, 20 miles, 20 miles." Just like companies, it is the 20-mile marchers who are disciplined and consistent and don't let outside factors affect their outcome who succeed.
Tribes
A friend of mine introduced me to Seth Godin's blog which I am now a subscriber to. I still haven't read any of his books but plan to – the first one that I have on my wish list is Tribes. The book is about how today's social media which is breaking down geographical, cost and time barriers, is enabling for new tribes to be created. The web can do amazing things, but it can't provide leadership, this has to come from individuals. I find this topic fascinating and even though you
don't have a blog online or use social media, I think it is a worthwhile read since the formation of tribes online has such a huge impact on our society – just think about the Obama campaign!
The Influencer
In February I attended a course at London Business School on leadership and power by Professor Richard Jolly. In one of the sessions Francois Locoh-Donou, a Director at Ciena was invited as a guest speaker. He held a fantastic speech titled "Getting to Power- and the Power to Get Things Done. I'm going to share more on some of his great advice in another blog post but I wanted to share the name of the book he recommended everyone to read – namely "The Influencer". Whether you are a CEO, soccer coach or house-wife you have an enormous ability to make change happen by influencing other people. The book combines insights of behavioral scientists and business leaders
and introduces a strategy for how you can have more influence in your life.
Make your own luck
In the same class I mentioned above, there were a lot of discussions among my fellow executive MBA classmates about the impact of luck. Do you have to be lucky to "make it", or do we make our own luck? Someone recommended that we all read a book by Eileen Shapiro and Howard Stevenson called "Make your own luck". In this book, the authors compress the complex skills of making your own luck into 12 easy and practical steps. This will not only help you in your professional life but also in your personal life. What better Christmas gift than giving someone the ability to make their own luck next year?
Women don't ask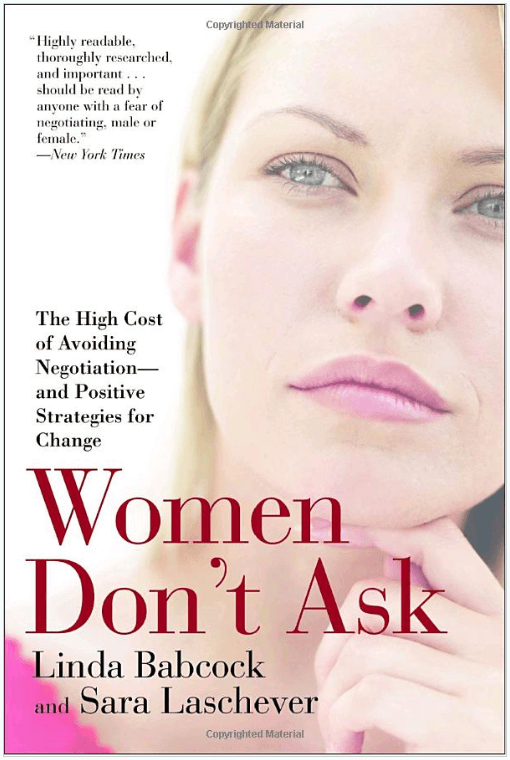 The final book of my top 5 wishlists is "Women don't ask". This was recommended to me by NiroSivanathan, Associate Professor at London Business School. I attended one of Niro's courses on Negotiation and Bargaining which was a complete eye-opener for me. I had no idea there was so much science and known tactics for how to negotiate! One of the discussions we had in class was related to gender in negotiations, so to be blunt, we were discussing whether men or women were better negotiators. Niro shared with us that women often don't even try to negotiate because we are concerned that it will have a negative impact on the relationship with the counterpart. However, in situations where women were representing clients in negotiations, there was evidence that they provided higher outcomes. I find it quite irrelevant whether or not men or women are better negotiators, I really believe it comes down to the individual, and I think we can all improve our negotiation skills. As women, we must take the opportunity to ask. According to the book, men are four times more likely to ask for higher pay than women with the same qualifications. I want to make sure to read this book so that I don't miss out on opportunities to ask for more.
Merry Christmas
Since this is my last blog post before Christmas I just wanted to take the opportunity to wish you a Merry Christmas, and if you don't celebrate Christmas I wish you an enjoyable weekend. I really appreciate that you take time off your busy schedule to read my posts and that you share them with friends and family. Thank you for your comments and feedback – Happy holidays to all of you!
(If you have difficulties reading this article, you can access the full article in pdf here)