How to use the Ignore Tool
Here is an email conversation that has totally gone out of line.  It started with an invitation to an event that I'm not interested in and then a number of people have done reply all. I'm not interested in these email – or any future emails related to this conversation. To delete current or future messages related to a conversation you are not interested in, mark the conversation or any email in the conversation and click "Ignore". I'm warned that the conversation as well as future messages will be deleted and I'll select not to see the message again and click "Ignore Conversation".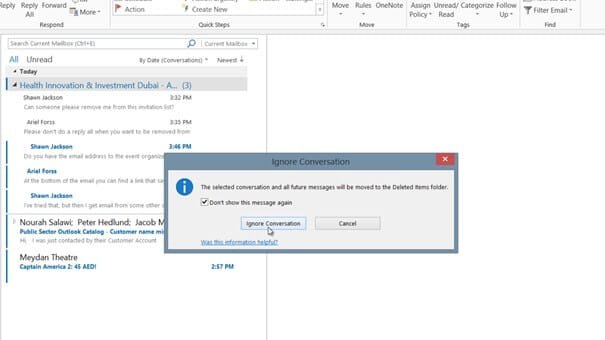 The email are moved to the "Deleted" items and you don't have to worry about spending time on cleaning up future email that might be sent related to the same conversation. This really is a great tool that helps you stay out of irrelevant and sometimes frustrating email conversations.