How to use the Clean Up Tool
To save time and remove duplicate email you can use the "Clean Up" tool.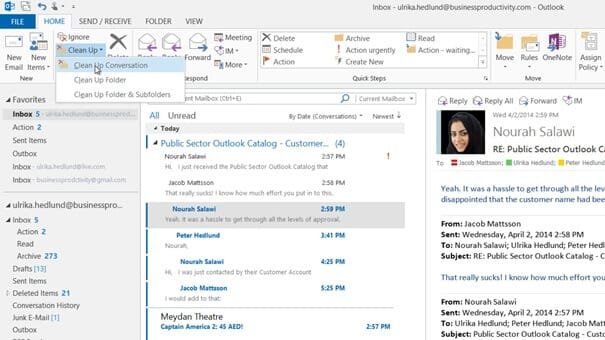 To use the "Clean Up" tool mark an email in the conversation and click "Clean Up." You can apply the "Clean Up" tool to individual conversations, or even better to an entire folder. The Clean Up" tool is great to use if you have been away from your inbox for a while and you want to quickly clean it up.
Here I'll select "Clean up Conversation" and I'm informed that the duplicate emails are moved from the inbox and put in my Archive folder, since this is where I have told Outlook to put them. I'll select not to see the message again and then click "Clean Up". And as you can see instead of having to go through 6 email, I can just read 2 to get up to speed on the entire story.