How to save a theme
Please note that this is a shortened, fast-speed video with the objective to give you a glimpse of ways in which you can improve your business productivity. The full video: "Design your own presentation theme in PowerPoint 2013" shows you how to perform the steps in a slower, more user-friendly fashion.
To save a theme that you've created, click the "DESIGN" tab, open up the design theme gallery, and choose "Save Current Theme".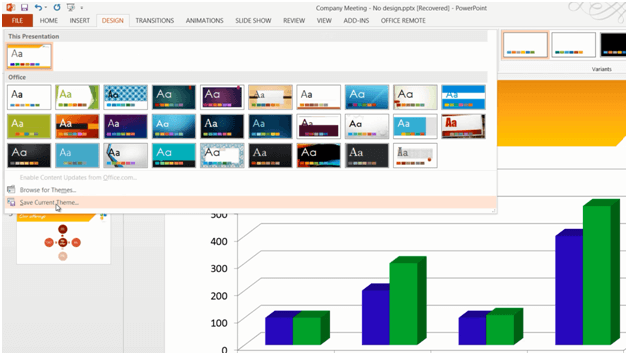 I'll give it a name "Corporate Theme" and then "Save". Now I have the corporate theme design saved in the design library and I can easily apply this to any new presentation I want to create. Every time I create a new presentation I can access the theme by clicking "CUSTOM" and then selecting "Document Themes".
If you click the little pushpin next to your theme, it will be available on the first page every time you create a new presentation.