How to create a Search Folder
To create a new Search Folder I'll right-click "Search Folders" and select "New Search Folder". Here I can select from a number of predefined criteria, like email from a specific person or email flagged for follow up. At the bottom you can select to create a "Custom Search Folder". Click "Choose" to define your options.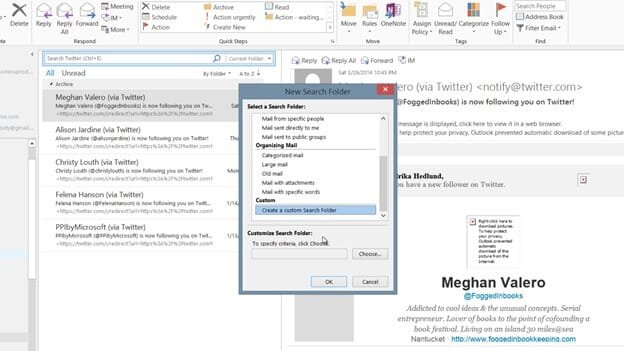 Here I'll name the search folder "Udemy" and then click "Criteria". In the "From" field I'll type Udemy. Now all email from anyone who has Udemy in their email address will appear in this Search folder.
I'll click "OK" multiple times to create my Search folder. You can sort your Search folder by physical folder so that you can see where the actual email is located, or to see the email in the order they arrived just change the sort order to "by Date".  The great thing about "Search Folders" is that you don't have to manually maintain them, they are automatically updated.