How to conduct a presentation over the Internet in PowerPoint 2010
Please note that this is a shortened, fast-speed video with the objective to give you a glimpse of ways in which you can improve your business productivity. The full video: "Reach a bigger audience through broadcasted presentations" shows you how to perform the steps in a slower, more user-friendly fashion.
You can also access the full course, "Eye-catching presentations using Microsoft PowerPoint 2010" on Udemy. 
Learn how to broadcast your slides using PowerPoint 2010
To broadcast your presentation go to the "Slide Show" tab, and then "Broadcast Slide Show".  Any one who has a Windows Live ID and PowerPoint 2010 can broadcast the slideshow over the Internet. So I will choose here to  start the broadcast. Here I have to sign in to my Windows Live account.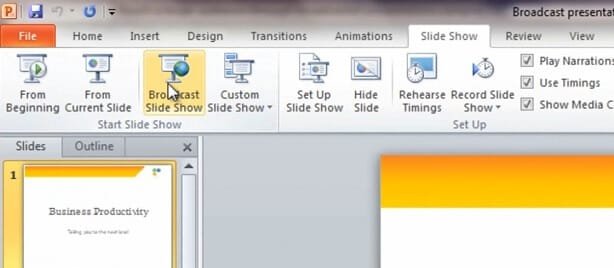 Here is the link through the Internet broadcast that I need to share with my prospective clients.
So I am just going to choose this copy link and then I am going to open my email that I have already prepared. I will paste the link and send the email. So whenever you are ready you can just click to Start the Slide Show.
Now you can conduct the presentation like normally you do and your online audience can follow you through the internet.