How to apply document styles
param name="wmode" value="transparent"/>
To apply a style set to your document, click the "DESIGN" tab and select a style from the style set gallery.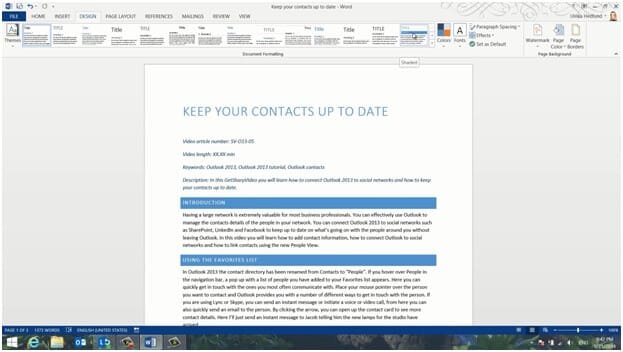 A style set is a combination of fonts, colors and layouts.  You get a live preview of what your document will look like using different style sets. To change the colors used in the style, click "Colors", and see which color combination you prefer.
Next I'll change the font used, by selecting a different font combination in the "Font" drop down. I can continue to tweak the formatting until it's exactly the way I want it.
To save a style set go to the "DESIGN" tab, open up the Style Set Gallery and click "Save as a New Style Set".
Give it a name. If you open up the Style Set Gallery, you will see the newly created Video Script Design style in the "Custom" section.