How to add meeting details to your notes in OneNote 2010
Please note that this is a shortened, fast-speed video with the objective to give you a glimpse of ways in which you can improve your business productivity. The full video: "Take effective meeting minutes" shows you how to perform the steps in a slower, more user-friendly fashion.
You can also access the full course, "Smart and effective notes using Microsoft OneNote 2010" on Udemy.
How to add meeting details to your notes in Microsoft OneNote 2010
Under the"Home" tab in the Outlook section click "Meeting Details".
Here you will see all meetings scheduled for today, if you want to insert meeting information from another date just click "Choose a meeting from another day". Here you can step between different dates to select the meeting you want to insert details from. I'll go back to today's date and select the 10 am committee meeting.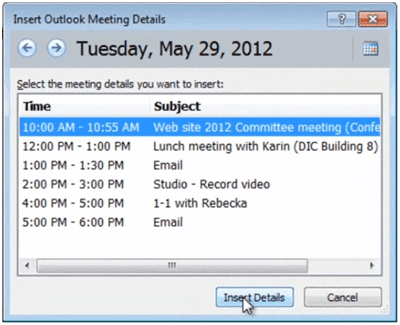 The subject and the attendees are inserted, as well as the contents of the meeting invitation. Unfortunately, as you can see, the agenda table loses its formatting when it's inserted so I'll just choose to remove this and instead copy the actual agenda table from the Outlook meeting and paste it into my notes.