How to add a person to your contacts in Outlook 2010
Please note that this is a shortened, fast-speed video with the objective to give you a glimpse of ways in which you can improve your business productivity. The full video: "Organize your contact directory" shows you how to perform the steps in a slower, more user-friendly fashion.
You can also access the full course, "Manage email, time and contacts using Microsoft Outlook 2010" on Udemy.
How to add a person to  your contacts in Microsoft outlook 2010
The most convenient way to add new contacts to your contact folder is to add them through an email. If I go to my inbox you can see that I've received a new email from Ariel. In most cases people have their digital signature in the email so it makes it really easy for you to add the contact details. Here I'll just mark and copy her contact details and then I'll right-click on her email address and select "Add to Outlook Contacts".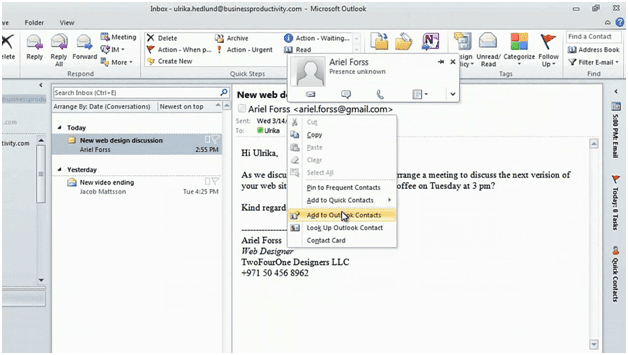 A contact card is created for me with Ariel's name and her email address. I'll paste in the rest of the information in the Notes field and now I can just drag and drop the fields to the right location. I don't have to type anything myself.