10 steps for a successful Enterprise Social Network
The enterprise social network market has grown substantially over the past few years.  Deloitte predicted that more than 90 percent of Fortune 500 companies would partially or fully have implemented an enterprise social network by the end of 2013. But rolling out a social network in the enterprise comes with a number of challenges. According to Gartner, as much as "80 percent of social business efforts will not achieve the intended benefits due to inadequate leadership and an overemphasis on technology". There are a number of great resources available on the Internet for those of you who are about to roll out a social enterprise network within your organization. In this week's blog, I wanted to gather some of this information and share some of my own suggestions in an easy 10 step approach.
1. Assemble a "Dream Team"
As with any initiative, in order to succeed, you need the right people on the team. This should be people who volunteer themselves because they believe in the cause of social enterprise networking. Try to get people from different departments that can come from different points of view and influence.  (Now if you had your social network in place you could easily post a question that the entire organization could see and you could immediately see from the level of engagement who the enthusiasts were).
2. Make your business case and define key metrics of success
Do your research so that you have proper data to support the initiative and your business case. There are several reports online that you could include in your business cases, such as the study by McKinsey that estimates that you can raise the productivity of interaction between workers by 20 to 25 percent or the report from Altimeter suggesting improvements in collaboration. In order for top management to buy-in, you need to align the goals of the enterprise social network with the strategic objectives of the organization. Make sure to define key metrics of success both for value creation and adoption. Value creation is always harder to measure, but try to think of things in your organization that would benefit from better collaboration and increased knowledge sharing. This might be better customer support (and thus increased customer satisfaction), quicker turnaround of proposals (and thus increased sales), increased innovation and faster time to market. Adoption metrics should be rather straightforward – how many employees have updated profiles, how often do they post questions, comment, etc.
3. Select your Enterprise Social platform technology
There are various enterprise social network technology platforms to choose from. You can start by looking at Gartner's Magic Quadrant for Social Software in the Workplace 2013, Wikipedia's site on Enterprise social networks, or other online articles like Mashable's "10 Enterprise Networks to Improve Company Communication".
Things that you should look for when choosing technology is that it should be easy to use, it should work well with your existing IT infrastructure, it should be available to use on a number of different devices so that users can be social from anywhere at any time. You also have to consider other factors such as cost, support and product roadmap. If you are using Microsoft software have a look at my previous article, "Enterprise Social Networks by Microsoft".
4. Run a pilot
Before you roll out your selected enterprise social network technology to the entire organization, run a test pilot. Based on your research, select a team or department that you believe will benefit the most by using the enterprise social network. Get their buy-in by sharing the benefits they will gain from using the social network, train them and help them out hands-on throughout the pilot.
5. Collect feedback and compile results
Collect user feedback about their experience, how easy it was to use, in what business scenarios it was used, what the benefits where. You can collect this from a user survey. Get quotes and examples of real business scenarios that were performed more efficiently using the enterprise social network. Compile data from the system, such as how many people where engaged, how often, for what it was used, and so on.
6. Get management buy-in
In order for an enterprise social network to be successful, you need support from the top as well as the bottom of the organization. End users in the organization will start using something if they see that it helps them do their job quicker and better and if others are doing it (except for some naysayers who are set in their old way of doing things).
To convince top management you need to use the business case you developed.  In most cases it won't be enough to show Gartner reports or other studies on suggested benefits, they will want to see the benefits in their own organization in real life. This is where the results from your test pilot will play an important role to convince them by showing real business value added to your own organization. When you get the leadership onboard it will be much easier for you to implement a successful enterprise social network. Ask one of the senior executives to be your sponsor, someone who will promote your cause by volunteering to be an active member in the social network.
7. Identify and "recruit" community managers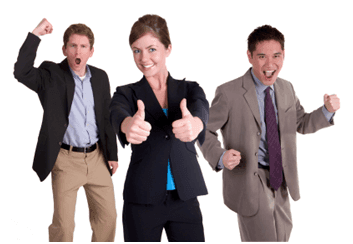 Now when you have your own team, the test pilot group and the management team on-board, you need to extend your reach of promoters and identify and "recruit" more people as power users, or to use the enterprise social network term "community managers", before you launch the social network platform to the rest of the organization. Give them access to the social network platform and train them so that they can act as role models and facilitators after launch.
8. Launch – the bigger the better!
The objective of the launch is to inform people about the social enterprise network and get them excited to use it. Announce it in a way that reaches everyone in the organization. Work with your internal communication team and try to get as much air cover as possible – the bigger the launch the better! Make it fun and exciting for everyone. After all, that's what enterprise social is all about – breaking down barriers and encouraging collaboration across departments in a fun and innovative way. Make sure you have plenty of information collateral so that users can find answers to their questions (see more below).
9. Train and support
Even though many people use social networking sites like Facebook and LinkedIn you shouldn't assume that they automatically know how to use your enterprise social network solution – especially not how to use it in a business context.  Clearly communicate your corporate user guidelines and train them on how to use the enterprise social networking solution – ideally using videos like the ones we produce, on how to use it in real business scenarios to add value. Make sure your regular IT support is up to date on the enterprise social solution technology platform and provide FAQs for typical questions within your organization.
10. Reward and communicate
Don't assume once you've launched your social enterprise network that the work is done and that the network will go "viral" without any further support. Having a successful enterprise social network is an ongoing process. You need to constantly communicate the value of the solution and reward and showcase good business use.
Every company is different – find a way that suits your company culture
The tips I've given here are rather generic and can work in most organizations. However, you know your organization best and you know what works and what does not work. I came across an interesting approach introduced by Peter can Hees on how to use "gamification" to stimulate user engagement. Whatever approach you take, make sure that it fits your organizational culture and that you leave it up to your organization to decide how best to use it.
(If you have difficulties reading this article, you can access the full article in pdf here).